Brexit
The UK electorate voted to leave the European Union in a referendum on 23 June 2016. The legal process for exiting the EU began when the UK notified of its intention to withdraw under Article 50 of the Lisbon Treaty on 29 March 2017. The UK and the EU had two years to decide on the terms of the withdrawal, particularly the extent of the UK's access to the single market versus the degree to which EU workers retain freedom of movement to the UK. On 21 March 2019, the EU offered to delay Brexit until 22 May if MPs approve the deal that has been negotiated. If they do not approve it, the delay will be shorter – 12 April – at which point the UK must detail its plan or leave without a deal.
Our Brexit pages provide news and guidance on all aspects of Britain's exit from the EU.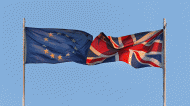 31 Mar 2016
The "Brexit" referendum on whether or not the UK should withdraw from the European Union takes place on 23 June...