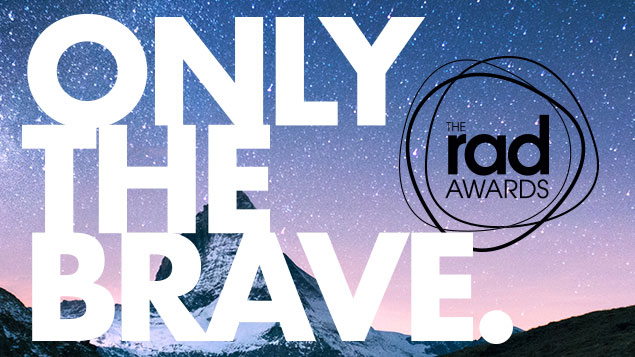 The shortlist for the 2019 RAD Awards, which celebrate the brightest and bravest in recruitment advertising, has been announced.
The list incorporates a diverse range of work across 18 categories, from the best in employer branding to innovative use of audio. New categories this year include Best Creative Idea, which attracted numerous entries, and two new video categories: Best Video Campaign and Use of Single Video.
The organisers thanked all entrants for the time taken to submit their entries and the judges have fed back that the standard is extremely high.
Book tickets for The 2019 RAD Awards
Winners will be announced on January 31st 2019 at the Grosvenor House Hotel in London.
The 29th RAD Awards take place on 31 January 2019 at the Grosvenor House Hotel, Park Lane, and is attended by more than 950 guests from the recruitment advertising industry and the recruitment and HR professions.
Richard Andrews, group director of The RAD Awards, said: "The 2019 Awards attracted more entries again this year so to get shortlisted really is a great achievement for employers and their agencies"
"The rigorous judging process is well under way and we're looking forward to finding the winners ahead of the big night at the Grosvenor House Hotel on January 31st!"
The 2019 RAD Awards shortlist
WORK/CAMPAIGN
EMPLOYER
AGENCY

Apprentice, Graduate and Early Careers Website
Argos Early Careers
Argos
Wiser
Early Careers Website
easyJet
SMRS
EY Early Careers Website
EY
MSL
Global Game-changers
Hogan Lovells
Stafford Long & Partners
YBS School Leaver & Apprenticeships
Yorkshire Building Society
Creed Comms

Best Creative Idea
Always Interesting
Direct Line Group
Havas People
Beat The Game Changers
Vodafone
Pink Squid
Computer Network Operations (Space Invaders)
GCHQ
Penna
Laws of Time
Allen & Overy
ThirtyThree
Powerful Minds
Accenture
AIA Worldwide
Race Your Code
Rolls Royce
Investis
TechQuest
Jaguar Land Rover
AIA Worldwide
The Tab Future 100
JP Morgan
The Tab & Ptarmigan Media

Best Use of Technology
EY Assessment Portal
EY
Capp
EY Best Use of Technology
EY
MSL
IBM : Papirfly Brand Portal
IBM
Papirfly
Join.Rolls-Royce.com
Rolls-Royce
CA3 & Eli

Branded Material
Early Careers Brochure
Marks & Spencer
AIA Worldwide
Future Unleashed Magazine
Accenture
AIA Worldwide
Generation T boxes
Thales
AIA Worldwide

Candidate Experience
Not your average Joe
Barclays
Stafford Long & Partners
Our Strategy
Reward Gateway
n/a
Stay Connected
Deutsche Bank
ThirtyThree

Diversity and Inclusion Initiative
Active Inclusion
Capgemini
Pink Squid
Diversity and Inclusion Initiative for Deloitte
Deloitte
SMRS
LGBT+ Campaign
Vodafone Group
Casual Films
Police Now Autumn campaign
Police Now
Tonic
Ready when you are
Devon County Council
ThirtyThree
Women in Home Service, Up your Street Campaign
Sky
Hodes (part of Symphony Talent)

Employee Engagement
Becoming a more Human organisation
Standard Chartered Bank
n/a
Customer Segmentation
The White Company
Pink Squid
Hello Tomorrow
DNV GL
Stafford Long & Partners
Join.Rolls-Royce.com
Rolls-Royce
CA3 & Eli
Talent Spotters
Assurant
Creed Comms
Work Well Done
Cathay Pacific
Havas People

Employer Brand
Better Life
AXA Global
Tonic
Beyond tomorrow – Pioneers of tomorrow
Rolls-Royce
Willis Towers Watson
Employer Brand for B&Q
B&Q
SMRS
Pride
The White Company
Pink Squid
SAP Employer Brand
SAP
n/a

Employer Website
Attracting candidates in the watch and jewellery trade
Jolyon Marshall
Accord Marketing
Careers Website
Walgreen Boots Alliance
Pink Squid
EY Employer Website
EY
MSL
Immunocore careers website
Immunocore
ThirtyThree
Life @ Vodafone
Vodafone
4MAT

Events, Experiential and Outdoor
Always Interesting
Direct Line Group
Havas People
Police Now Autumn campaign
Police Now
Tonic
Powerful Minds
Accenture
Accenture
The Ready for Anything? challenge
The AA
TMP worldwide
The Sir William Siemens Challenge: Mindsphere Live!
Siemens
AIA Worldwide

Graduate Campaign
…to the nth degree
Newton Europe
Stafford Long & Partners
Beat The Game Changers
Vodafone
Pink Squid
BT Graduate Campaign
BT
Ph.Creative
Each Child Each Future
Teach First
Tonic Agency
EY Future of Work – Build Tomorrow
EY
Carve
The Sir William Siemens Challenge: Mindsphere Live!
Siemens
AIA Worldwide

Innovation
Any more bright ideas?
BP
Havas People
Barclays – The Next Reality
Barclays
Tonic Agency
Powerful Minds
Accenture
Accenture
Rolls Royce – Race Your Code
Rolls Royce
Investis
Walk This Way
Next
Havas People

Integrated Campaign
Are You EE?
EE
ThirtyThree
Christmas Peak
Hermes
Creed Comms
Computer Network Operations (Space Invaders)
GCHQ
Penna
EY Integrated Campaign
EY
MSL
EY Integrated Campaign – Experience Hire
EY
MSL
Find the real story inside
HM Prison and Probation Service
Havas People
We'll bring your ambition to life
Sandwell & West Birmingham NHS Trust
TMP worldwide

School Leaver and Apprentice Campaign
Apprentices Fly
Airbus
Hodes (part of Symphony Talent)
CyberFirst has your back
CyberFirst
Stafford Long & Partners
EY School Leavers and Apprentices
EY
MSL
Walk This Way
Next
Havas People

Single Use of Video
Changing the world, one lightbulb at a time
E.ON
Jupiter Advertising
Deepmind Video
Deepmind
Wiser
Each Child Each Future
Teach First
Tonic Agency
Engine Ears
Atkins Global
Fifty One Films
Kraft Heinz Careers
Kraft Heinz
Wiser
Loneliest Data Set
Elsevier
Reed Business Information
The 'No Technology' Department
CyberFirst
Stafford Long & Partners
Unsung
Greater Manchester Health and Social Care Partnership
TMP worldwide

Use of Audio
EY
EY
MSL
Get into Teaching
Department for Education
Carat
Leading starts here
Sainsbury's
TMP worldwide
RAF/ Everybody thinks they know me.
RAF
WCRS

Use of Social
#UniquelyUnilever
Unilever
Hodes (part of Symphony Talent)
Fit The Bill
Essex Police
Laws of Time
Allen & Overy
ThirtyThree
TechQuest
Jaguar Land Rover
AIA Worldwide
Walk This Way
Next
Havas People

Video Campaign
Active Inclusion
Capgemini
Pink Squid
EVP
Vodafone Group
Casual Films
Leading starts here
Sainsbury's
TMP worldwide
The Tab's Guide To Investment Banking
JP Morgan
The Tab & Ptarmigan Media
What Makes You
Babcock International Group
Blackbridge Communications
Women in Home Service, Up your Street Campaign
Sky
Hodes (part of Symphony Talent)
Youth
Vodafone
Casual Films