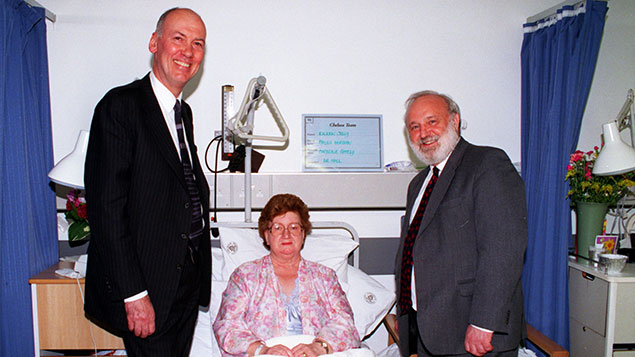 An employment tribunal ruled this week that the dismissal of an 88-year-old medical secretary was unfair, and "tainted by discrimination".
Octogenarian Eileen Jolly, was employed in 1991 at the age of 61 by East Berkshire College of Nursing and Midwifery, which later became Royal Berkshire NHS Foundation Trust, until her dismissal on 22 January 2017, receiving a long service award in 2016.
In 2005 Jolly began working as a medical secretary for consultant Brendan Smith, who undertook breast cancer surgery and non-urgent surgery. She had planned to work until she was 90.
Smith described Jolly's work between 2005 and 2017 as reliable and meticulous. Part of her work for Smith involved the management of a list of people awaiting surgery, which was agreed with the directorate manager of abdominal surgery. It was explained to Jolly that she should let Smith know when patients were getting close to a breach date, which arises when a patient has been waiting 52 weeks from their initial referral.
In 2015 Jolly's role changed from medical secretary to patient pathway coordinator and she was required to attend waiting list training which was given by a colleague. The session was quite short because the trainer could not tell the trainees "how patients go from one part of the system to another", causing the training to be re-scheduled. But it never took place. Electronic patient records were also introduced in 2015 accompanied by a further redesign of clerical processes.
In September 2016, Jolly was summoned by the Trust's director of operations and told she was being suspended and told to collect her things and leave the premises. She was escorted off the premises, an incident she told the tribunal that felt "awful", adding that she also heard someone say "Eileen won't be coming back."
The reason for the dismissal given by the director of operations was that Jolly had not managed the waiting list effectively and standard processes were not being followed. There had been three serious incidents in two years where the 52-week deadline had been breached. However, Jolly had no knowledge of the first two incidents which were not identified to the tribunal by the Trust's witnesses. It was agreed by all that the third incident was not Jolly's fault but there was an insinuation that she had been involved during the subsequent investigation.
Jolly was invited to attend an interview at the Trust but because of the lack of available representation (Jolly's Unison caseworker was not available on the day), a pre-arranged medical appointment and a pre-booked holiday, she could not attend on the alternative dates put to her.
She was later invited to a review meeting which she was warned could lead to her dismissal. She raised a grievance detailing how the new processes from 2015 did not accord with the way that Smith worked and that inadequate training had been given. She pointed out that Smith did not feel she was under-performing at all and that the Trust had taken no account of the work she did for Smith or the way she was required to work for him. She contended that the real reason for her treatment was her age.
After the capability review Daniel O'Donnell, the patient pathway manager, in January dismissed Jolly on the grounds of her "catastrophic failure in performance, where damage had been caused to patients as well as potentially the Trust's reputation". He accepted that she had not been given the chance to improve her performance.
Jolly appealed against the decision but the Trust, wrongly as it turned out, ruled this had been submitted too late.
The employment judge, Andrew Gumbiti-Zimuto, ruled that Jolly's grievances were not addressed and that she had been discriminated against on the grounds of age. He judged that in the lack of training offered she had been treated differently to other staff and noted a reference by one manager to her being stuck in "old secretarial ways".
The judge ruled that inappropriate and hurtful comments had been made about Jolly's age and health conditions and her dignity had been violated, in short her dismissal was "tainted by discrimination". Even without this, the judge said, the dismissal was unfair because procedures – particularly around the capability review and the failure to hear her appeal – had been incorrectly followed. It was also clear, he said, that managers had a view of Jolly's role that she did not share. She understood that she was performing competently. He added there was a suspicion she was a scapegoat.
A remedy hearing will be held on 14 October.