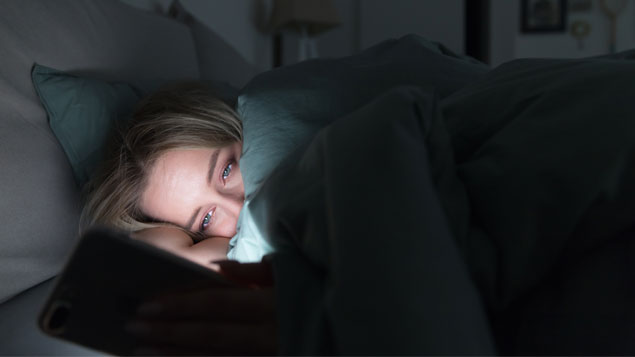 Almost a third of workers find it difficult to "switch off" from work in their personal time, putting them more at risk of becoming stressed or burnt out.
Research commissioned by the Myers-Briggs Company found that those who are "always on" are usually more engaged at work, but more likely to experience stress or mental exhaustion.
Digital overload
Twenty-eight per cent of workers said they find it difficult to mentally switch off from their jobs because of access to work emails and smartphones, while 26% said the expectation to be always on interferes with their personal life. A further 20% of people said being constantly connected to work made them feel mentally exhausted.
The study, conducted by business psychologists Nikhita Blackburn and Helen Rayner and presented at the British Psychological Society's Division of Occupational Psychology conference last week, asked 1,116 workers to complete a Myers-Briggs Type Indicator assessment that measures four aspects of personality, as well as questions about how connected with work they were.
They were asked about compulsively checking their mobile phones, ability to switch off from work, job satisfaction, stress and work-family conflict, with the aim of determining whether attitudes to the "always on" culture differed depending on personality type and how this affected work productivity, mental health and job satisfaction.
Higher job stress was linked to greater home-work conflict, difficulty switching off, distraction and compulsive phone-checking. Those with higher work-related stress were also significantly less likely to be satisfied in their role and have a workplace culture that kept work and home life separate.
Introverts had a greater desire to keep work and home life separate, while extroverts were more likely to have a work smartphone.
Those who were aligned with the Judging preference on the Myers-Briggs Type Indicator (those who deal with the world in a structured way) were more likely to be stressed at work and find it difficult to remove themselves from work matters in their personal time.
Blackburn said: "Technology has revolutionised how we communicate and how we manage our work and personal life and people can feel under pressure to be available for work-related communication at all times. This is unlikely to suit every personality.
"In the short term, people who are more engaged in their job may be tempted to be always on, but this may impair wellbeing and job performance over the longer term.
"Organisations might consider helping their staff recognise the 'sweet spot' between using technology to increase engagement and becoming a slave to it, as well as setting clear expectations about technology use outside work."