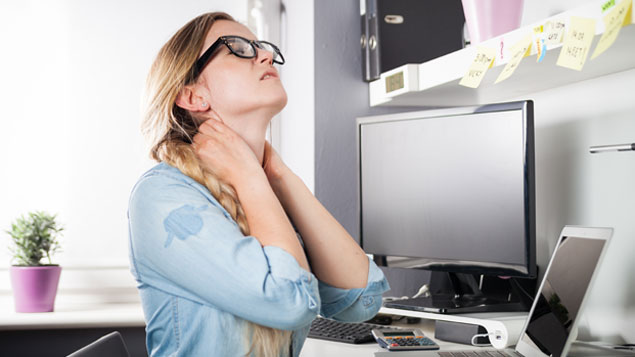 A third (33%) of employees have taken at least one day off work due to back or neck pain in the past year, with almost half reporting that their pain is triggered by spending long periods sitting at their desks.
According to the British Chiropractic Association (BCA), workers suffering from back or neck pain are absent for 12 days per year, on average, due to their condition.
It claimed that the level of absence associated with such conditions could be reduced if employers encouraged their staff to move around more; 40% of workers who spent the majority of their time at work sedentary did not feel like they could take regular breaks, with only 6% reporting that they were actively encouraged to get away from their desks by their employer.
Just a fifth of the 1,643 workers polled had been offered a desk assessment, ergonomic chairs or laptop stands by their employer to help reduce the level of pain they experienced.
Forty-five per cent said sitting for long periods of time triggered their back or neck pain and 23% felt it had a negative impact on their working life.
Catherine Quinn, president of the BCA, said: "No-one should feel they need to be chained to their desk all day at the expense of their health, and it is an organisation's responsibility to empower staff to look after themselves in the office. With so many workers missing work due to the condition, it is truly in employers' interests to offer proactive help and advice to protect the health of their employees.
"There are many simple things workers can do to stay active during the 9 to 5. This could start with something as simple as sipping on a small glass of water and standing up to refill it each time its empty or taking the stairs."
Last year health and wellbeing provider BHSF found that back pain was particularly an issue among homeworkers. Thirty-seven per cent experienced new back pain since they began working remotely and only 60% had received an ergonomic assessment, either online or in person.