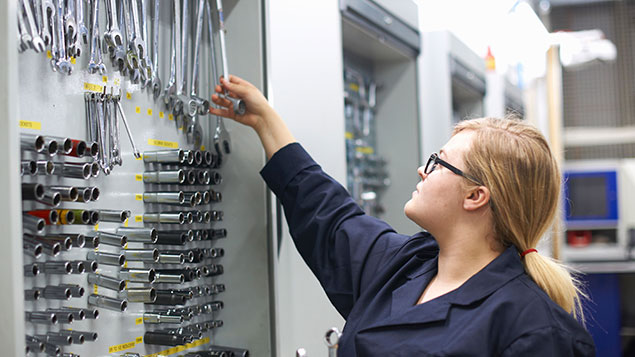 The government should remove any barriers preventing young women embarking on apprenticeships, according to a report published today by the All Party Parliamentary Group (APPG) on Women and Work.
The report, How to Recruit Women for the 21st Century, is the product of a year's research by the APPG, which is jointly chaired by MPs Jess Phillips and Gillian Keegan.
It calls for the government to start up an apprenticeship bursary fund to provide access to training to the poorest women and other under-represented groups, as well as support with transport costs for apprenticeships.
It also recommends that apprenticeship levy funding is broadened so it can be used to train female contractors, freelancers and agency workers.
As well as recommendations on the use of apprenticeships, the APPG report calls for companies publishing gender pay gap data to break down pay data into further categories such as age, ethnicity and disability. It adds that in the future, this pay reporting could be extended to smaller companies.
SMEs could also benefit from a diversity fund that would enable them to offer coaching and mentoring to support women to progress at work.
The report is designed to offer employers a toolkit they can use to attract, recruit and support more women.
Its advice to employers includes advertising roles as potentially being open to flexible working, reducing unconscious bias in interviews and taking care around the wording in recruitment adverts in case the use of language is inadvertently gendered.
When looking at job design, it suggests: "When designing a job, review and refresh the advert and/or job specification that has been previously used.
"Consider the degree of flexibility that the role can accommodate, do not default to the traditional way the role has been carried out. Could it be part-time, job-share or work from home? Could elements of different jobs be combined to make a new role?"
It also recommends that employers offer refreshment training programmes so returners are up to date with the latest progressions in their field. In organisations where they struggle to recruit women, they should consider either running or backing outreach initiatives that encourage more females to consider working in these sectors.
Sophie Wingfield, head of policy at the Recruitment and Employment Confederation, which has called for greater flexibility in how organisations spend their apprenticeship levy, welcomed the APPG's recommendations.
She said: "The APPG adopting our recommendation to broaden the apprenticeship levy into a training and skills levy that can be used to train temporary workers is a good step forward to allowing women to progress their chosen careers.
"A flexible levy would also help more women to access jobs in key sectors that are finding it difficult to find the staff that they need. This mirrors the core recommendation from the REC's Future of Jobs commission which said changes to the levy will benefit employers and ultimately the HM Treasury through productivity gains."
D&I opportunities currently on PT Jobs