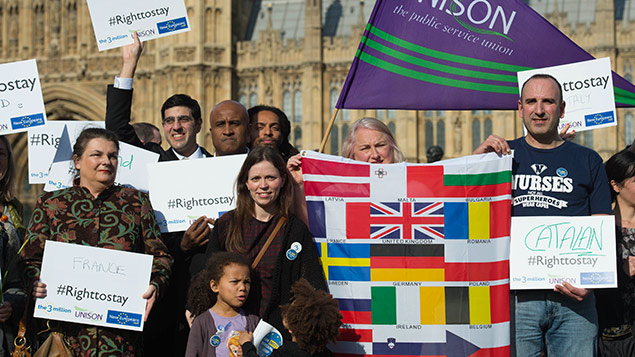 Updated EU Settlement Scheme details have been criticised as onerous and clumsy by both immigration law specialists and workers in the UK from the Continent.
The new guidance stipulates that anyone who has applied to the scheme or already gained a decision must notify the government if they make any changes to their mobile phone number, email address, name or identity document.
The guidance warns applicants that if "you do not provide the correct contact details you may not get your decision". It also says that details must be up to date so you can that EU citizens can "prove your rights to others, for example employers or landlords".
Brexit
Social media was awash with criticism of the rules over the weekend. A history professor from Northumbria University, Tanja Bueltmann, wrote on Twitter: "All of us who get settled status have to make sure these details are constantly kept up to date for the rest of our lives."
She also objected to the need to send all new passports to the Home Office for verification: "So 3.6 million people who are all here legally now have to, for the rest of our lives, regularly send our passport to the Home Office … Leaving aside the practicalities of that: the continuous anxiety this will cause millions already at home here – I have no words for it."
Kerry Garcia, partner at Stevens & Bolton, described the obligations as onerous. She said: "In an era where people often have multiple email addresses they'll presumably need to keep a record of which email address they even used to apply for their settled status.
"It seems that if they get this wrong or forget to inform the Home Office of changes there is a risk they will not be able to prove their right to be here to landlords and employers. In the future, when right to work and right to rent checks are introduced for EU nationals, this could prove to be problematic, if for example someone isn't offered a job or allowed to rent a house and the reason is traced back to the fact that they forgot to update their contact details."
All Europeans I've spoken to are sick to the teeth with being buggered about and will vote with their feet unless the government's tone changes" – NHS consultant from Germany
Garcia said it had not been anticipated that new ID documents would have to be sent to the Home Office: "At the moment, non-EU nationals in the UK do not even have to do this so it is most surprising that EU nationals with settled or pre-settled status will have to do so. We can only wait to see how quickly the Home Office will update the information and return the passport but inevitably this will cause inconvenience to many EU nationals.
"Indeed, as most passports are issued for 10 years this would mean EU migrants will, in many cases, have to send off their passports to the Home Office on numerous occasions over the years. It can only be hoped that the Home Office will in time realise how onerous these requirements are and find another solution."
Maike Bohn, director of EU citizens' rights campaigner the3million, said the system was far too complex: "It asks EU citizens to update lots of information in order to keep the new status – email, phone, passport – and this will inevitably lead to mistakes and frustration, especially as there are no options for local ID or settled status renewal." 
"We need a physical or digital document which won't need updating every time our details change. EU citizens currently are only issued a digital number – which could lead to discrimination, for example in instances where computer systems are down and immigration officers or hospitals can't check an EU citizen's immigration status and might refuse entry into the UK or access to healthcare."
An NHS hospital consultant in a south coast city told Personnel Today that he was waiting to see whether Brexit happened before applying to the scheme: "I've lived and worked here for 20 years. I do not countenance separate arrangements for people who aren't British. I will not be sending my German passport to the Home Office under any circumstances."
He said there had been no support from the NHS regarding the status of EU nationals, but suggested that this was partly because of the continuing uncertainty over Brexit: "My trust's HR has done nothing. Nobody has offered support, no offer of immigration advice or help or statement about the settlement fee [now waived]."
"I have refused to do anything with the 85-page document. I can work anywhere in the EU; all Europeans I've spoken to are sick to the teeth with being buggered about and will vote with their feet unless the government's tone changes. The whole thing is very distressing – I'm not playing any kind of Windrush game with the Home Office."
A statement in the names of Boris Johnson, Michael Gove, Priti Patel and Gisela Stuart of 1 June 2016 from the Vote Leave referendum campaign stated: "There will be no change for EU citizens already lawfully resident in the UK. These EU citizens will automatically be granted indefinite leave to remain in the UK and will be treated no less favourably than they are at present."
The Home Office has been contacted by Personnel Today for a response to the criticism of its updated guidance but is yet to respond.