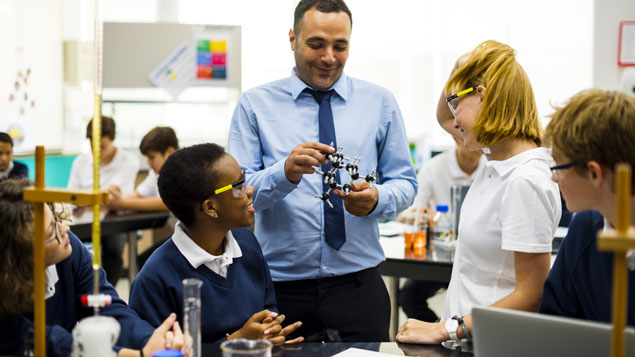 The government is to help fund a series of programmes aimed at getting career-changers to become teachers, in a bid to get more experienced business leaders into the profession. 
The Department for Education (DfE) will invest £10.7 million into three programmes that look to retrain business leaders and PhD graduates as teachers, including one programme that has helped investment bankers, lawyers and a former Nasa scientist begin new careers in education.
Education sector
It hopes the funding, which will be shared between the three organisations, will help recruit and support up to 600 teachers over the next two years.
"By focusing on skilled professionals who want to change careers and PhD graduates, we can ensure pupils are benefiting from the broadest range of skills, expertise and life experience," school standards minister Nick Gibb said.
"This approach will help drive up education standards further so young people are acquiring the skills and knowledge they need to succeed."
The National Foundation for Educational Research has claimed that a staffing crisis in state schools is rapidly developing, as pupil numbers grow and the rate of working-age teachers leaving the profession increases. It estimated that a third of teachers leave the profession within five years of qualifying.
Now Teach – an organisation that trains teachers in shortage subjects including maths, science and languages – and Cognition Education – which will target career-changers in the North East, North West, West Midlands and Yorkshire – will each receive up to £3 million over the next two academic years.
A third organisation, The Brilliant Club – which focuses on recruiting PhD graduates into teaching posts – will receive £4.7 million. Emphasis will be placed on training teachers in maths and physics and part of the fund will be used to contribute to an increase to the salaries of maths and physics PhD graduates.
Now Teach founder Lucy Kellaway said: "This funding not only means we can expand our programme and engage the 400,000 professionals in the UK considering a change to teaching. It also means we can enhance the support we give Now Teachers to ensure they stay in the profession long term.
"Our current retention rate of 89% bucks the trend for older teachers and it's critical we keep these highly talented and experienced teachers in education."
Cognition Education group chief executive Tina Lucas said bringing individuals with successful professional careers into the classroom allows students and schools to "benefit enormously" from their knowledge and skills.
The DfE said 32,710 trainee teachers were recruited by schools last year – up 3% on the previous year.