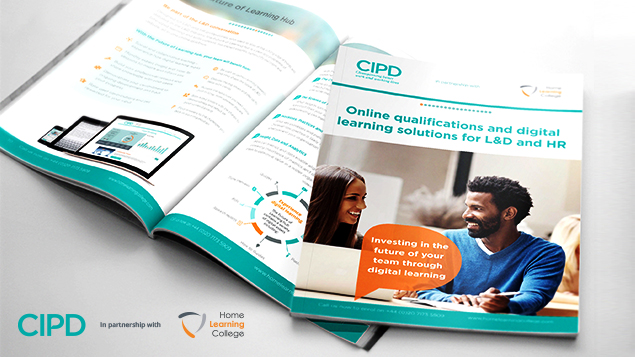 Responding to increasing demand for HR and L&D qualifications in emerging global markets, CIPD Training has partnered with Home Learning College to offer fully online programmes.
CIPD qualifications are respected throughout the world, and in many cases are required by employers for HR roles. Blended learning solutions are a popular route to qualification, but many find their geographical location, work or home commitments a barrier to attending compulsory face-to-face workshops. The CIPD sought a solution to make its qualifications more accessible, especially to non-UK countries, and through a tender process chose online learning experts Home Learning College as its exclusive digital partner.
Commenting on this partnership Gill White, Knowledge & Capability Director, CIPD said: "Following on from the enormous success of our digital Intermediate Diploma in L&D and the impact of our Future of Learning course, we are delighted to be partnering with Home Learning College once again on our digital HR qualifications at Foundation and Intermediate levels.
"This 100 per cent online approach brings HR and L&D professionals the best of social and collaborative learning using an internationalised context and cutting-edge content written by thought-leading practitioners to ensure that HR professionals can advance their career when and where it suits them."
These fully online programmes mean that professionals wanting to advance their HR career can now do so entirely online, studying when and where it suits them, by accessing the Virtual Learning Campus (VLC) from any web-enabled device, anywhere in the world. Learners can start right away and no longer have to take valuable time away from their workplaces, benefitting from the ultimate flexible learning solution.
This exclusive partnership and pioneering approach to learning design reflects Home Learning College's digital capabilities in delivering high levels of online learning for top ranked qualifications and organisations in the UK and internationally. Home Learning College provides an unparalleled support network through social and collaborative learning, community and peer support, as well as support and guidance from personal tutors.
To learn more, Get Course Information or call 020 7173 5849.

Warren Howlett, Head of HR Content at CIPD adds: "Our HR digital qualifications combine the great content expertise of the CIPD with the terrific digital capabilities of Home Learning College. In doing so, we have created a world class digital learning experience for HR professionals to help build the profession of the future."
These are the first 100% online CIPD HR programmes on the market, and have so far proved a huge success, with the inaugural start date completely sold out. Lorraine, an enrolled learner, was keen to get started: "I'm currently on maternity leave and looking for a change, I'm looking at a career change in to HR as I have always been interested in this area. It has been a long time since I have done any studying but I'm really looking forward to starting."
Hayley Montgomery, lead tutor for the Intermediate CIPD programme added: "It is very exciting to be part of every learner's journey through such a highly respected course. I have seen people not only develop a wide range of knowledge and skills, but also a new found confidence and credibility. This then helps them grow in their careers and succeed in areas they may not have thought possible."
To find out more about these pioneering programmes, Get Course Information or call 020 7173 5849.
About the CIPD:
The CIPD is the professional body for HR and people development. The not for profit organisation champions better work and working lives and has been setting the benchmark for excellence in people and organisation development for more than 100 years. It has 140,000 members across the world. www.cipd.co.uk 
Save