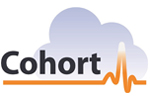 What is 'cloud computing'? It's a word we hear a lot in the technology industry at the moment, but do we really know what it is?
Simply put, 'cloud computing' is a method of computing that is done through the Internet. Traditionally, in order to run a piece of software or an application, an individual would have to physically download the programme on a computer or server within their building. The beauty of cloud computing is its ability to allow people to access their applications via the Internet.
Following on from understanding what cloud computing is, it is key to then ask what the benefits are. Firstly, overall costs. A cloud offering is most typically a 'Pay-as-you-Go' service, removing the need for any initial heavy investment.
Imagine the cost for company A, who currently pay for the hardware, software and maintenance costs for running all their IT internally. Compare this to company B, who uses cloud computing, whereby the reliance on internal IT teams is largely removed, there are no hardware set up or maintenance costs and they benefit from the highest quality and most secure datacentre – without it being in-house.
Secondly, cloud computing is more flexible and agile. This method is becoming widely popular within organisations of all sizes due to the undeniable increase in efficiency. A cloud-based service can quickly respond to business needs, due to the immense capacity of the remote servers in place.
Simultaneously, this also negates the need for organisations to implement complex disaster recovery plans, as this is part and parcel of the offering from the cloud service provider. Cloud computing can resolve most issues that arise, and it responds faster than traditional methods.
Due to the fact that cloud computing has a very rapid deploy time, businesses enjoy minimal start-up costs and can easily predict their on-going operating expenses. This is a huge advocate of positive return on investment for cloud computing.
Companies using cloud computing will experience improved workflows. Providing employees have internet access, they can enjoy remote working. Employees can access the cloud wherever they are, and still be able to work on documents and shared applications simultaneously. Not only individually, employees can also keep up-to-date, in real-time, with colleagues, removing the risk of missing critical updates.
Imagine company A again, whereby workers send their files back-and-forth in a game of email-tennis, allowing only one person to work on one file at a time. Company B however, have all their documents stored in one central, secure location. One central copy can be edited by multiple users, who can communicate while they do so. Collaboration is improved, therefore efficiency is increased.
Cloud computing also takes the worry of data security away from the company. When working on individual computers and laptops, each with their own record of sensitive information, each and every one of those computers is at risk. Lost, or leaked data, can have serious monetary implications for an organisation.
Working via the cloud, however, removes this worry. Data is accessible no matter what happens to the physical device the information is being accessed on. Not all SME's can afford enterprise-level security and disaster recovery, however, with the cloud, they can enjoy the benefits, without the cost of running expensive, complex and cumbersome backup and recovery procedures in-house.
Cloud for OH professionals?
Now it is understood that cloud computing can: Cut costs, increase flexibility, encourage remote working, and is secure with added reassurance that in the highly unlikely event that anything should happen, the appropriate disaster recovery procedures are all catered for on your behalf. It is quick to deploy and will immediately start benefiting your business. It is worth discussing whether or not cloud computing is beneficial within the Occupational Health (OH) setting.
For health professionals of any calibre, data is always confidential and should legally be treated as such. Lost or leaked data could have horrific implications. An effective OH Department should see patient confidentiality as being of paramount importance if it wishes to avoid the catastrophic damage that could happen to the organisation as a whole should confidentiality be compromised.
This being said, asking the same OH Department to entrust their most sensitive of data into the invisible cloud is daunting, and is often met with much scepticism. When entering the cloud, departments should be fully aware of where and how their data is being stored. UK companies are feeling increased pressure to employ storage within the UK, despite lesser costs by hosting abroad. By ensuring you know where your data is held, you can maintain compliance with the Data Protection Act 1998.
The fact is; the more popular smartphones and tablets are becoming, the more we have a genuine need to be able to access our data from anywhere. A typical OH practitioner will understand how important remote clinics and visits are, and will appreciate how convenient it would be to securely access and edit all their data live.
Many OH service providers will have multiple contracts and struggle to record all the information effectively on return to the department. This method is time-consuming and prone to error, with wider implications on reporting and assessment. A cloud solution saves time by allowing the OH nurse or practitioner to input the data there and then, and removes the risk of information getting lost in transit.
Having the ability to provide clients with secure, online referrals is also becoming the standard expectation, and using a secure cloud provider guarantees agility, safety, and reliability in modern health-care institutions. For OH practitioners, the benefits are clear.