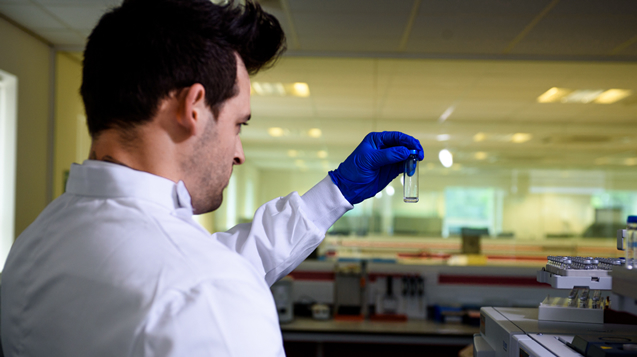 Did you know that a trend has been gradually developing among some employees of firms which have implemented a workplace drug testing policy?
Unfortunately, it has become common knowledge among a large number of such employees, that the over-the-counter painkiller codeine will provide a non-negative result when detected in a drug test.
In many firms where safety is a critical aspect, the implementation of a drug and alcohol testing policy is absolutely vital to protect all employees who may drive as part of their job, work with hazardous materials or use dangerous equipment such as those in the medical or construction industries.
Unfortunately, we as an industry are still some way off from being able to pinpoint the presence of codeine specifically within a urine sample, as the screening technology available today recognises it as an opiate.
Although AlphaBiolabs delivers the fastest initial lab confirmation in the UK with a same-day service if required, any employee returning a workplace drug screening result of non-negative by means of a urine test is usually suspended on full pay until a laboratory can carry out a more detailed analysis to determine the drug present in the individual's system.
Until now, this entire process often took up to five working days, simply because the technology is not yet available to immediately identify the presence of a drug and then specify exactly what it is as part of the same test. Further analysis is therefore required in instances of a non-negative result, all of which takes time.
Of course with codeine-related samples, the final test result reveals the information that the drug is legal but in the meantime, significant numbers of employees have been able to enjoy up to five days out of work on full pay, with no repercussions.
Historically, with around 850,000 drug tests being carried out each year by UK companies, ten percent of these normally deliver a non-negative result.  Of these, around fourteen percent are later found to be codeine-related although of course, not all of these individuals will have taken codeine deliberately for the specific purpose of tricking the company into giving them time off with full pay.
We estimate that there are nearly 12,000 deliberate codeine cases each year and in one instance, an energy company client was forced to delay one of its key projects, when the leading engineer was suspended, pending test analysis.
It's not all bad news, though. Until analysis technology can catch up with the sheer volume and variety of new drugs being manufactured, we have tackled the problem from a different angle.
As soon as AlphaBiolabs learned of the codeine holiday scam, we invested in additional state-of-the-art technology, designed to speed up the analysis process and ensure that employees suspended from work pending the results of a drug test potentially only need to be absent from work for one day.
When we translated the statistics into monetary terms, the results were astonishing. In fact we found that by reducing the number of days that employees are paid whilst on suspension for further drug analysis, this new technology could in fact save UK businesses up to around £20 million per year in lost salaries.
Rest assured that whilst we're best known for being the DNA testing laboratory of choice for the Jeremy Kyle show and the media in general, we are front runners in a global battle to keep pace with constant developments in both illegal drugs manufacturing and so-called "legal highs".
One of the largest independent testing laboratories in Europe, we were delighted recently to receive the Queen's Award for Innovation for our next-day DNA testing service, which is now the fastest in the UK.
Based in Warrington, we have provided workplace drug and alcohol testing services for a large number of SMEs and corporates across the UK for around twelve years, supported by our Walk-in Centres across London and in Leeds, Manchester, Liverpool, Warrington, Preston and Birmingham.
AlphaBiolabs is investing heavily in research and development, to be able to continuously and quickly identify illegal drugs more specifically, even those which are new to the market; supporting personnel managers and business owners with their workplace drug and alcohol testing policies.
In addition to DNA paternity testing, we were the first UKAS ISO17025 accredited laboratory to develop the innovative techniques required for testing to identify the abuse of a comprehensive list of illicit substances.
Established in 2004, we are one of the few laboratories in the UK able to offer a bespoke testing service to satisfy individual company drug and alcohol policy objectives and procedures, providing sample collection training where required or offering our own collection service.
For more information on how AlphaBiolabs can support your individual workplace drug and alcohol testing policy, contact our expert team today on 0333 600 1300 or visit www.alphabiolabs.co.uk