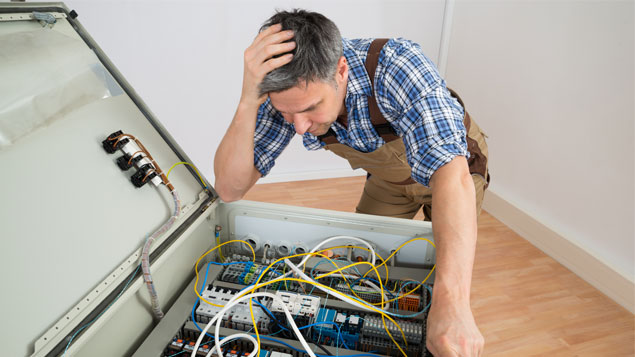 Lower paid workers who are diagnosed with dementia earlier in life are more likely to face discrimination or be dismissed by their employer than those in higher paid roles.
A University of Nottingham study, which was published in the journal Occupational Medicine, looked at various research papers about the management of employees who develop dementia while in work, in order to identify common themes and consider how their experience in the workplace could be improved.
A diagnosis of early dementia should not mean the immediate end of a working life. People will have a range of capabilities that do not change overnight once a diagnosis is made" – Dr Richard Heron
Forty-four studies were analysed and a number of common issues were found. These included employees hiding the difficulties their condition presented at work; the patients' desire to stay in work for as long as possible; and workers not receiving the adjustments they are entitled to.
One of the studies looked at found those in lower paid or manual roles were more likely to experience an "all or nothing" approach from their employer or face dismissal. However, those in higher paid, non-manual positions were better supported and found their employer was more likely to want to retain their skills and knowledge.
The research paper – Managing employees with dementia: a systematic review – found that staff with working-age dementia – of which there are an estimated 42,000 under 65 years of age in the UK – were more likely to self-manage their symptoms rather than discuss concerns with their employer. This could delay diagnosis and lead to pressure to improve on any performance issues, which might in turn contribute to dismissal.
Discrimination fears
Many feared being bullied by colleagues if they disclosed their condition and worried that they might be discriminated against if they looked for another job. However, there were also reports of staff "rallying round" colleagues with dementia.
Occupational physician and co-author of the study Dr Richard Heron said: "There remains much stigma around mental health, and particularly the 'D' word, dementia, which is perhaps becoming as feared as the 'C' word, cancer, was.
"With earlier detection and anticipation of more effective treatments on the horizon, a diagnosis of early dementia should not mean the immediate end of a working life. People will have a range of capabilities that do not change overnight once a diagnosis is made.
"With the right support, care and occupational advice, many will be able to continue safe, healthy and productive employment, well beyond their diagnosis."
Effect on cognitive skills
Employees experienced challenges in completing day-to-day work tasks like managing cash and accounts, as well as changes in cognitive skills, such as repetition in conversation and reduced numerical ability.
When reasonable adjustments were looked at, the report found many people with dementia "have experiences that are far from what's advised in the guidance". One study found that no participants were offered any adjustments to their role and their employer had "no real will… to find a more suitable job or acknowledge their remaining skills".
Another study saw 60 people lose their jobs as they were unable to fulfil their work commitments. Reasons for this ranged from the inability to retain work-related insurance post-diagnosis and being laid off from more informal work contracts.
The University of Nottingham research concluded that early identification of dementia would minimise problems for both the employer and employee, particularly where the worker wants to stay in work. Reasonable adjustments, an open environment for discussion, and support and advice for patients were also recommended.
Researchers suggested sensitively asking employees whether they have memory problems at home, or encouraging them to speak to a medical professional or family member.
"Employers should understand that the person who has the diagnosis will themselves be struggling to deal with the impact of that news, and will require some support and understanding from their workplace," said Professor Tom Denning, co-author and professor of dementia research at the University of Nottingham.