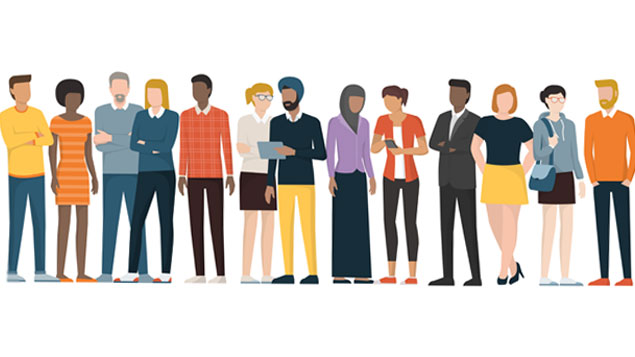 Although often tasked with improving diversity and inclusion, HR is still often seen as a "white female" career. But is this necessarily the case? Ashleigh Webber looks at gender and racial diversity in HR and whether it is as homogenous as it seems.
It is no secret that a lack of diversity – particularly in senior positions – has become one of the biggest challenges for employers. Most would be shocked to learn that in 2018 more than half of FTSE 100 firms did not have a single director from a minority ethnic background and only 22 had any female executives on their boards – a culture that is bound to influence all levels of their organisations, whether it is intended or not.
Tackling cultural issues such as this usually sits firmly within HR's remit. But, as many commentators would argue, how can HR address the inequality that a broad spectrum of workers experience, when the profession is perceived as mostly white and female?
Safia Boot, managing director of HR consultancy Respect at Work, says the HR demographic has barely changed since the 1980s:  "HR is a predominantly white female group, trying to influence a white male group [at leadership level]. What's the dynamic at play?"
Teresa Boughey, CEO and founder of diversity consultancy Jungle Diversity, suggests that, as with many other professions, HR is not immune to the underrepresentation of minority groups.
"When I reflect upon my own HR career, I recall there were no other fellow students from ethnic minority backgrounds in any of my CIPD study groups," says Boughey, who considered the profession for her forthcoming book Closing the Gap – 5 steps to creating an Inclusive Culture.
"As I've progressed through my career, I can only recount one individual from an ethnic minority operating at a HR adviser level, but sadly no senior board representation. Reflecting upon local CIPD branch events I have attended, I also recollect an absence of ethnic minorities."
The benefits of maintaining an inclusive workforce are clear and there is no shortage of research claiming that the most diverse businesses are more successful than those that are not. McKinsey & Company says that companies in the top quarter for ethnic diversity are 33% more likely to achieve profit that exceeds industry averages than the least diverse businesses, while INvolve and the Centre for Economics and Business Research suggest GDP would be around 7% higher if gender, ethnicity and sexual orientation diversity were addressed.
'Prevalent group-think'
But Raj Tulsiani, chief executive at consultancy Green Park, says the apparent "white female" dominance of the HR profession has led to "prevalent group-think" becoming one of the biggest problems within HR departments, which is affecting many decisions that involve minority employees and customers.
Boot suggests that HR's lack of diversity is clearly reflected in speaker panels and discussion topics at HR events. She highlights that events sometimes "avoid facilitating race discussion at grass roots level", effectively sweeping the issue under the carpet.
D&I opportunities currently on PT Jobs
In fact, several Twitter users recently criticised the CIPD for booking several all-male panels at an event later this year, despite more than three-quarters of its membership being female. The organisation responded by stating that speaker diversity was "at the forefront our priorities" and that it chooses speakers based on the "quality and relevance of content alone". Speaker panels, it emphasised, had not yet been finalised.
Imbalance in senior roles
Yet, while there seem to be plenty of anecdotal reports of a lack of gender and ethnic diversity in HR, the results of the CIPD's latest membership survey (which polled 6,079 members last autumn) tell a different story. The real problem appears to be the lack of diversity in senior HR roles both in terms of gender and ethnicity, rather than across the profession as a whole.
Only 7% of senior HR jobs were held by a person who identified as non-white, compared with 18% at junior levels or in entry-level positions. This suggests a significant drop-off in the number of BAME people progressing into senior positions.
However, the figures also reveal that the profession is generally representative of the UK population, of which 14% of people identify as non-white, according to the 2011 census.
With diversity and inclusion an integral part of HR's role, a person from a minority ethnic group might see HR an area where they can progress and feel accepted, says CIPD membership director David D'Souza. But could they be put off a career in an area with such an apparent glass ceiling?
"Over time I would expect it to become more attractive to those from a BAME background," he says.
"I genuinely think HR is one of the most inclusive careers; it's just about trying to provide more career support and encouragement to [get more minority groups to] progress into senior roles."
Unsurprisingly, the survey also found a significantly lower proportion of men than women in HR: 77% female and 21% male (with the remaining 2% selecting another gender identity or preferring not to answer), compared with 60% male and 40% female across the working population. But despite being a female-dominated profession, men still seem to take up the majority of senior HR positions.
Boughey says there is an abundance of women in junior administrative roles and early-level HR adviser positions, but HR is "peppered with male leaders" when the top of the career ladder is looked at – often those who have entered the profession through an alternative route.
"Some may have previously been operational supervisors and have transitioned into a HR management/leadership role," she suggests. "Sometimes individuals may have reached director level through a finance route, gaining solid commercial experience and in order to increase the scope of their role, they are awarded additional functional responsibility by becoming responsible for an organisation's HR function."
This lack of gender balance is also apparent when the HR's "gender pay rise gap" is looked at. Recent analysis by HR recruiter the Oakleaf Partnership found that men in senior HR roles often receive higher pay rises than their female colleagues – with male senior HR professionals in the reward and analytics sector, for example, receiving pay awards 21% higher than women.
"In order to get more female senior leaders in HR, we need to be really open about career progression," says D'Souza. "We have an opportunity to really trail blaze as a profession."
'Trail blazing'
Safia Boot agrees that HR should be setting an example to other professions and taking action to address the inequalities seen across some areas of business.
I genuinely think HR is one of the most inclusive careers, it's just about trying to provide more career support and encouragement to [get more minority groups to] progress into senior roles," – David D'Souza, CIPD
"Businesses should apply recommendations [about D&I issues] to HR first," she says. "HR should act as an example and should be having those difficult conversations that are often not spoken about.
"HR, at the moment, is missing an opportunity to act as a role model. If we can crack this and be an example then other professions will follow."
But how can HR address some of the barriers that those from minority ethnic groups face? Boot suggests getting hiring managers to ensure that they are interviewing candidates on their strengths, possibly considering "blind CVs", for example.
However, she points out that these only work to a point because a person's ethnicity usually becomes clear when they are brought in for an interview. Instead, organisations might need to address any wider biases that might persist.
HR also needs to be more innovative when looking at recruitment, adds Raj Tulsiani. "Despite lots of effort and rhetoric, too few HR professionals take their own advice, particularly when choosing recruitment partners. What are they willing to do differently to have the choice of attracting and retaining more difference?" he says.
While there are regulations to prevent discrimination in hiring and promotion decisions, organisations still need to do more to stop those from ethnic minority backgrounds from being unjustifiably shut out of roles – and this should not simply be offering more training. Tulsiani is particularly critical of unconscious bias training, describing it as a "busted flush" that will not solve the problem – in his experience, unconscious bias training programmes have not translated into change being seen.
Greater flexibility
As with many other careers, senior HR roles need to allow a greater degree of flexibility to support both men and women who want a successful career and a family, explains Boughey. Roles need to move away from "form-filling and policing policies" towards ones more aligned with the commercially-focused HR business partner model to encourage more gender and age diversity.
"I believe, however, that the problem stems further back – to education," she says. "We need break the cycle of stereotypical career choices in school and colleagues and move away from applying unconscious bias labels to job roles. This will take time; however, it is very much needed if we are to ensure that the HR profession is representative of all protected characteristics."
Highlighting inequality
Tulsiani suggests that there is little the government can do to help address the issue, with much of the onus on organisations and HR teams themselves, but new regulations in the pipeline might help reduce race inequality across the wider workforce. Last autumn Theresa May revealed plans for legislation that would require all organisations to disclose how people from different ethnic backgrounds are paid – in a similar vein to gender pay gap reporting – to highlight any disparities in the career progression and reward among white and BAME employees.
Boughey believes that all areas of business have a part to play in building a more inclusive HR workforce, "By including everyone, a diverse and inclusive culture has a greater chance of becoming embedded. Not withstanding this, the HR professional community do have a specific contribution to make to ensure that they are role modelling the culture and behaviours that should be displayed within an organisation," she says.
"It is therefore important to ensure that the HR community represents a balance of genders, age, abilities and ethnicity. This is an important step forward for showcasing the change that other functional areas need to follow."
While it appears that HR is generally becoming more representative of the UK population and workforce, in terms of ethnicity at least, there is still some way to go before the profession loses its "white female" stereotype. Employers need to make sure the right culture exists in their HR departments to enable those from different backgrounds to progress, otherwise they risk inequality trickling into other areas of the business.