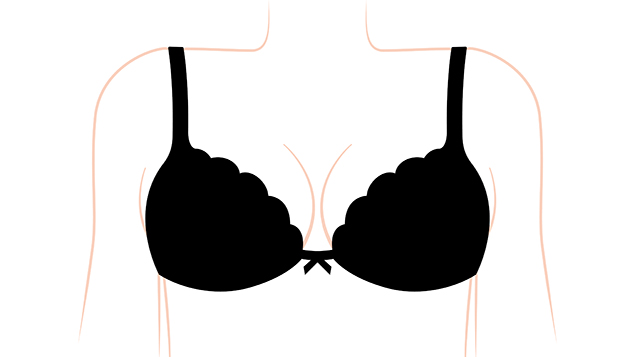 A recent post on a parenting forum asked whether it would be illegal for an employee to go bra-less at work. But can an organisation actually make demands on what staff wear under their clothes? Alex Christen, an employment lawyer at Capital Law, gives us the lowdown.
When it comes to bras in the workplace, what are women's rights? Can you really get sacked for not wearing a bra to work? Recently a woman on a parenting website Netmums sparked something of a debate when she posted a comment asking why she had to wear a bra to work.
She said: "In 2018 would I get in bother if I didn't wear a bra at work? I just find them uncomfortable and I think everyone is well aware that people have nipples and I am not doing this for attention – I just feel I shouldn't be forced to wear something.
"Who cares if some nipples are in the centre pointing down, a bit to the left or haven't even got any? It's 2018, I shouldn't have to wear something because it will make people feel less uncomfortable/stop men looking or just because it's the norm."
In conclusion, she asks: "Does anyone else agree? Or am I a hippie that wishes to burn all bras?"
There is a clear argument that women (and men) should have the freedom to choose their own undergarments"
But hippie connotations aside for a moment, what's the legal stance on this?
Dress codes
Employers are entitled to impose a dress code and the main legal requirement is that it is not discriminatory under the Equality Act 2010. It must be applied neutrally so as not to single a person out, unnecessarily impact women more than men or put people of religious backgrounds at a disadvantage.
Dress codes, whether they be full uniform, shirt and tie or colour coordination are a way of life for a lot of workers. Breaching the rules comes with varying degrees of consequences.
Take for example a news story from 2017, where bar worker Kate Hanna claimed she was fired for not wearing a bra to work.
Hanna said that she was left feeling upset and disgusted with the "blatant lack of respect for my right as a woman to wear whatever makes me personally comfortable". Her employer denied the dismissal was for this reason. Yet Hanna's case – although all the facts cannot be verified – raised the question of whether a bra can realistically form part of dress codes.
Everyone is well aware that people have nipples and I am not doing this for attention – I just feel I shouldn't be forced to wear something" – post on Netmums
There are two separate legal considerations here:
Is the requirement to dress differently, specifically to wear a bra, an act of sexual discrimination or sexual harassment?
Do employers have the right to make dress code rules involving a bra?
Reasonable requirements
Generally, dress codes should be reasonable and relate to the job an employee is doing, and whether wearing a bra would fall into this category is certainly dubious although it could, at a stretch, form part of a requirement to look 'smart'.
There have been other similar debates recently about women wearing high heels to work (including reception worker Nicola Thorp, who was sent home for not wearing a high enough heel), and other less gender-specific issues including tattoos and piercings. The concern is that someone may be offended, or made to feel uncomfortable, by someone else's appearance.
In the case of Hanna and her choice to not wear a bra there is no legal precedent to consider and compare. However, there is a clear argument that women (and men) should have the freedom to choose their own undergarments.
And clearly there is little veracity to the narrative that a bra would have any impact on the way a woman conducted her job, in the way that some employers may require employees to tie their hair back or cover it for hygiene reasons if working in a kitchen.
Following the Nicola Thorp case, the House of Commons Petitions Committee and the Women and Equalities Committee carried out a joint inquiry. The resulting report from the Government Equalities Office (GEO) made recommendations in the following areas:
a workplace dress code is a set of standards that employers develop about what is appropriate for employees to wear to work;
dress codes can be a legitimate part of an employer's terms and conditions of employment;
dress policies for men and women do not have to be identical, but standards imposed should be equivalent;
it is best to avoid gender specific prescriptive requirements, such as the requirement to wear high heels. Any requirement to wear make-up, skirts, have manicured nails, certain hairstyles or specific types of hosiery is likely to be unlawful; and
consulting employees and trade unions over any proposed dress code or changes to an existing code is advised.
Apply rules equally
So where does that leave the issue of bras in the workplace? In the case of underwear, if employers wanted to be very specific they could require employees to wear appropriate underwear at work. Arguably this could be applied equally to men and women – so baggy boxer shorts that are seen over the top of trousers could be in breach of such a policy (as could a visible G-string on a woman or lack of a bra).
However, an employer should not specify that a women should wear a bra as there is no equivalent for men – by using a global term (underwear) or even better, a general requirement to be smart, any requirements on the types/use of underwear are less likely to target women as a group and therefore be discriminatory.
However on a practical level and to avoid employee relations issues, employers should ask themselves why they want women to wear a bra – is it really a requirement/is it necessary? What would be the risk for the business if women went bra-less? Would there be any health and safety risks for women going bra-less? Probably not. What about health and wellbeing? At the end of the day perhaps it is better to go with personal choice rather than stipulate specific requirements.