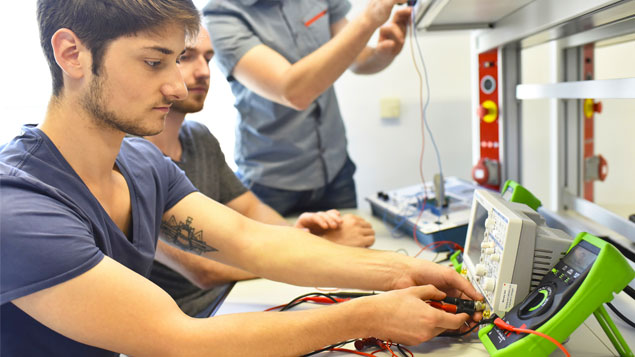 The education secretary has insisted the UK needs to lose its "snobby" attitude towards technical education if it wants to close the skills gap and increase productivity.
In order to get more people into skilled jobs that pay higher wages, Damian Hinds said employers and schools leavers should not overlook non-academic routes of skills development, such as the new T-Level qualifications due to be taught from September 2020.
Technical education
In his speech at an event at Battersea Power Station yesterday (6 December), Hinds argued that the default route into skilled roles should no longer simply be an academic one, especially if the UK is to close the productivity gap with other European countries after Brexit.
He said that only 65% of working people in the UK had completed a qualification at A-Level or equivalent, compared with almost 90% in Germany.
"Right now, when it comes to skills we have an hourglass-shaped problem in this country," he said. "As a nation I'm afraid we've been technical education snobs."
"By that I mean that at the top of our hourglass, we have a large number of well-educated people, often with degrees from good universities. They tend to be in the high skilled, high paid jobs. This is worth celebrating.
"But at the bottom of the hourglass, we have a large number of people who either never progressed beyond GCSEs or gained low level vocational qualifications. They are too often ending up in low skilled, low wage jobs.
"If we're ever going to close the productivity gap then we need more people getting into the top half of the hourglass, and essentially we need to change the shape of the hourglass so it bulges out in the middle… with more skilled jobs for people doing high quality training when they finish school."
In 2017, employers struggled to find the right skills, experience or qualifications for around 42% of skilled trade vacancies.
To get more people into skilled roles, Hind said the government planned to:
introduce a new generation of "higher technical qualifications" in subjects including engineering and digital at Levels 4 and 5 (equivalent to Diplomas of Higher Education and Foundation Degrees)
match skills to jobs using "skills advisory panels" – local partnerships between employers, local authorities, colleges and universities that assess which skills are needed in their areas
better inform pupils about what higher study or training they should go on when they leave school.
In terms of higher technical qualifications, he said this would be the kind of training that "helps you step up from being a cook to a chef, a bricklayer to a construction site supervisor, an aircraft maintenance fitter to an aircraft maintenance engineer".
The government has also published a new T-Level action plan, setting out the next seven programmes to be taught from 2021 (health, healthcare science, science, onsite construction, building services engineering, digital support and services and digital business services), and confirming that T-Levels will carry the same UCAS points as A-Levels, should students wish to continue into higher education.
More than 200 employers including GlaxoSmithKline, Fujitsu and Skanska are working with the government to design T-Level course content to ensure that they provide students with the knowledge and skills that employers value.
"To be clear, the message here is not 'don't do a degree' – the message is you don't have to do a degree," Hinds said. "We want young people to acquire the higher qualifications that lead to high skilled, more rewarding jobs – whether through a degree, a higher apprenticeship or higher technical qualifications."