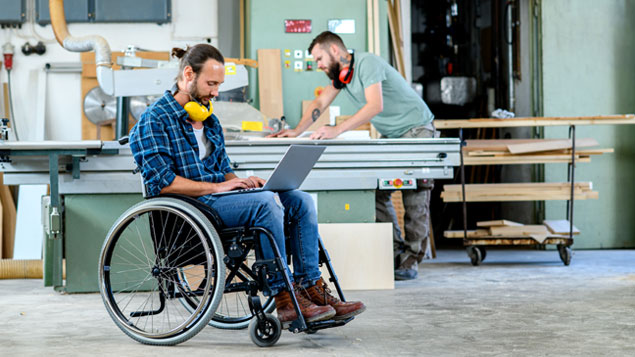 Large employers are being urged to take an "honest look" at how many disabled people they employ by publicising their disability employment figures.
The government has published a new voluntary framework to help organisations with 250 staff or more report how many of their staff have a health condition or disability, following a recommendation in last year's Stevenson/Farmer Thriving at Work Review that employers should reveal more information on the health of their staff on a voluntary basis.
Disabled employees
Although aimed at larger employers, the framework encourages all organisations to report on staff with disabilities and how they are supporting them.
The framework suggests that employers provide a narrative to explain their policies around the recruitment and retention of disabled employees, as well as report on the percentage of their workforce that consider themselves disabled or have a long-term physical or mental health condition.
According to the Department for Work and Pensions, about a fifth of the working age population has a disability.
Almost one million disabled people have entered the workplace in the past five years, with the government aiming to achieve one million more by 2027.
Last week, the Institute for Public Policy Research joined the call for disability pay gap reporting to be made mandatory.
Prime minister Theresa May said she wanted to create a society where "we empower disabled people, celebrate their talents and enable them to achieve their hopes for the future".
"But the disability employment gap is still too wide," she said. "I call on employers in every sector to take an honest look at how many disabled people they employ.
"I ask them to look at the support they are offering and how accessible their workplaces are so everyone can be given the chance to reach their full potential at work."
So far 10,000 employers have signed up to DWP's Disability Confident scheme, which allows businesses to show they are taking action to get more disabled people into the workplace and supporting them with their conditions.
Anna Bird, director of policy and research at charity Scope, said the publication of the framework was a "watershed moment".
"We will only be able to tackle disability unemployment if we understand the scale of the problem," she commented.
"We frequently hear from disabled people about difficulties they face – from negative attitudes and inaccessible recruitment processes, to inflexible workplaces and difficulties getting adjustments.
"Data on disability is crucial for employers to understand what action they need to take to recruit and retain disabled people."