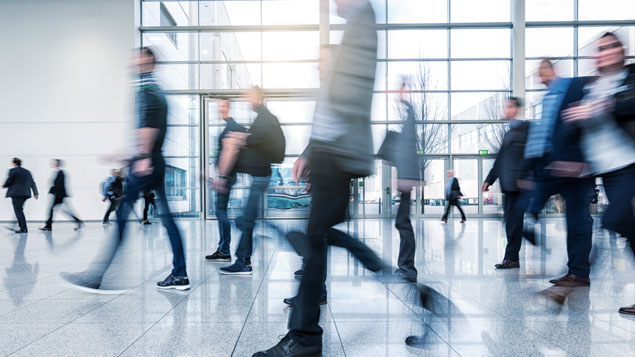 With Brexit drawing closer, the number of EU nationals working in the UK fell by 61,000 in the last quarter of 2018.
There were 2.27 million citizens from other EU countries working in the UK between October and December 2018, compared with roughly 2.33 million in the same period the previous year.
Meanwhile, the number of non-EU nationals working in the UK increased by 130,000 to 1.29 million, according to the Office for National Statistics' latest labour market figures.
The UK's impending departure from the EU on 29 March is continuing to present problems for employers with vacancies, said Matt Weston, managing director of recruitment consultancy Robert Half UK, "Our research found that 70% of UK business leaders agree that Brexit will make it harder to attract talent that can support business growth.
"As the talent dilemma intensifies, it is now more important than ever for businesses to adopt flexible hiring strategies. The employers that will thrive in this fast-paced market are those that can act quickly to identify and attract quality candidates and offer benefits beyond remuneration, like training and flexible working.
"The companies that get this right will be able to persuade in-demand professionals to join their firm over another, and increase overall productivity levels by providing a collaborative, flexible workplace."
The number of people working in the UK (both UK and non-UK nationals) continues to grow, with a record 32.6 million people in jobs in the final quarter of last year. This figure is 167,000 higher than that for July-September 2018, the ONS said, and 444,000 higher than a year earlier.
Seeking stability
Karendeep Kaur, senior immigration consultant at Migrate UK, said EU nationals are opting to return to their home country or alternative EU member states where there is more stability, "UK based employers are either erring on the side of caution when seeking to employ EU nationals and would rather employ UK based nationals to ensure there is no issues post Brexit, or they are simply delaying candidates, both EU and UK nationals, in anticipation of the outcome on 29th March 2019.
"Due to the latter, many EU nationals are focusing on returning home as this wariness adopted by current/potential employers is impacting these individuals in the present. Both personal and career aspirations are being placed on hold."
Kaur warned that by delaying the decision-making process, employers risk losing job candidates from the EU: "This accelerates the sense of uncertainty in EU nationals (including their family members) which is leading to job offers being rejected and offers from a competitor (in the UK or abroad) being accepted," she said.
"These competitors, which are not worried in making an executive decision for the talent they wish to secure, are actively putting in place sponsor licenses to ensure they are covered regardless of the outcome on Brexit."
EU nationals who wish to continue working and living in the UK must apply for "settled status", which they can now do for free. However, many have criticised the scheme for being onerous and clumsy, with new guidance stipulating that those who achieve the status must keep the Home Office up to date with any changes to contact details such as their mobile phone number and email address.
The government has proposed a skills-based immigration system once the UK leaves the EU and plans to scrap the cap on the number of tier 2 visas for skilled workers that can be issued, which it hopes will benefit health service employers.