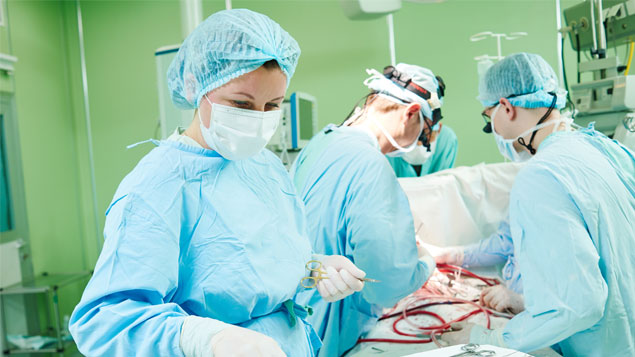 Six out of 10 female surgeons have experienced discrimination at work, with many feeling the profession does not support childcare commitments or progression into senior roles.
Research by several universities and NHS trusts found that 59% of women working as surgeons had experienced or witnessed gender bias and discrimination, irrespective of their level of training and experience.
Eighty-eight per cent felt surgery was a male-dominated field, with 16% suggesting some areas could be described as an "old boys club".
Unconscious bias and discrimination
The research asked 81 female members of the Association of Surgeons of Great Britain and Ireland about their experiences of working in the profession to better understand whether there were any barriers that deterred women from pursing surgery as a career and, if so, how they could be addressed.
Almost half (42%) said improved quality of life and more flexibility would attract more women to surgical roles, while 22% reported that there needed to be a shift in attitude towards women taking career breaks.
Eighteen per cent said understanding of the impact of family on day-to-day activities needed to improve.
Lack of female role models
The researchers – from Imperial College London, the University of Sunderland, the University of Edinburgh and several NHS trusts – argue that the lack of female role models in surgical leadership "contributes to the perpetration of the white male stereotypical gender role" allowing those who do not fit this stereotype to believe they cannot "make it" in the profession. A more diverse senior team, for example, could help address this and prevent discrimination against women in recruitment and promotion decisions.
The research, published in the BMJ Open journal, says: "The greatest challenge currently faced, in the opinion of the authors, is the realisation and elimination of unconscious bias existing in surgery. Gender equity is a leadership issue: when more women are in leadership positions, organisations offer employees more generous policies to support workplace gender and produce better business results.
"Male surgeon colleagues who already mentor and support females are appreciated, but women, also need to step up and promote themselves.
Family-friendly policies
Researchers also found a discrepancy between parental leave policies across hospital trusts and specialties. The paper says, "The general perception is that family-friendliness may be hard to reconcile with the working requirements of the surgical specialty, often involving patient treatment of unknown length or at unsocial times of day or night.
"There is a challenge to manage work in these areas and to improve family-friendliness without compromising patient care.
D&I opportunities currently on PT Jobs
"This lack of support is potentially leading to burn out, since we know that this is ultimately driven by external factors such as excessive working hours, workload and conflicts with family commitments."
Some specialisms appeared to have more barriers to women than others. For example, 53% felt trauma and orthopaedics was a "sexist specialty", followed by cardiothoracic (16%) and general surgery (15%).
Facing bias
One woman said she was told by another surgeon that he left one area of surgery for another because there were "too many women surgeons and they caused too much drama".
They also encountered bias from patients. One respondent said: "Patients are extraordinarily sexist… patients have walked into a consulting room and said to me 'I thought I would be seeing a doctor at least' before I had time to introduce myself. I am 34 and been a doctor for 10 years".
The paper recommends that staff at every level need to challenge insults, eliminate pay and promotion disparities and advocate for policies that retain a diverse pool of talent.
"The glass ceiling for women in science is created by people, of either gender, and it can only be broken if all are aware of it and change their behaviour and attitude towards it," it says.
Professor Farah Bhatti, a consultant cardiothoracic surgeon, council member of the Royal College of Surgeons (RCS) and chair of the RCS's Women in Surgery Forum, said it was important to note that they number of women in surgery has increased, with the proportion of female consultant surgeons rising from 3% in 1991 to 12% in 2018.
"This small survey focuses on perceived barriers to a surgical career for a woman, including concerns around being able to have a family, achieving a work-life balance, and working flexibly," said Bhatti. "While it is important to understand the types of challenges faced by women, and to address any systemic issues, there has probably never been a better time to pursue a career in surgery.
"The Women in Surgery initiative at The Royal College of Surgeons of England aims to encourage, enable and inspire women to fulfil their surgical potential. We support women throughout their surgical career, act as advocates, provide networking opportunities, give advice on less than full time training, and showcase role models."