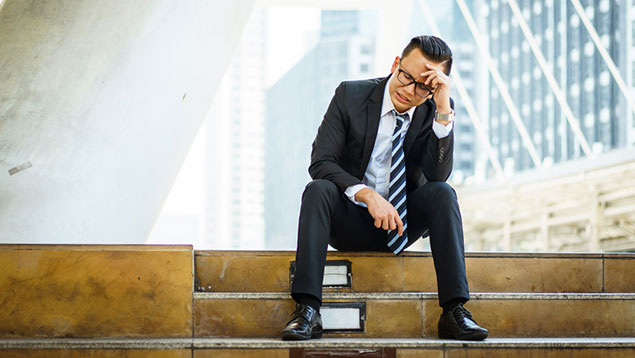 The number of stress-related absences in financial services is higher now than in the immediate aftermath of the 2008 financial crisis.
The number of working days lost per worker per year in financial services because of stress is now 31% higher than the average between 2007 and 2010, employment law specialist Fox & Partners has found in an analysis of Health and Safety Executive figures.
Between 2007 and 2010 the number of working days lost was 0.48 on average, rising to 0.63 days between 2015 and 2018.
Mental health support
The increase in days lost, found Fox's report, is a reflection of how workers have come under continued pressure from redundancies, restructuring programmes and increased regulatory burdens.
For example, the introduction of MiFiD II (Markets in Financial Instruments Directive) in January 2018 has weighed on the profitability of smaller brokerage firms, putting some jobs at risk.
MiFiD, along with the Financial Services Act, is in part a response to the crash and provides more protection for consumers in terms of transparency over fees, charges and communication.
The national average across all businesses for days lost per worker due to stress was 0.42 days for all industries between 2015-16 and 2017-18, the same as 10 years ago.
Health and social work saw the worst figure at 0.69, financial services was next and education was third in the list with 0.6.
Ivor Adair, partner at Fox & Partners, said long hours, deadlines and tough competition were continuing to take their among City workers. He added: "Stress levels among financial services workers in the City remain palpable, more than a decade on from the financial crisis."
"We have also seen the implementation of the senior managers regime that has forced many senior people to leave financial services."
Profitability was a major factor in the rise in stress, too. The return on equity for the banking sector, said Adair, was about half of what it was pre-financial crisis.
He added: "Brexit-related issues have added an extra layer of stress due to uncertainty over the future regulatory landscape and the potential movement of some operations to the continent."
The report noted that stress-related absences was tough on workers and employers who had to absorb the additional strain and costs of any lost output caused by colleagues being unavailable.
As part of efforts to mental wellbeing, the government has pledged its commitment to the 40 recommendations of the Stevenson Farmer Review, the independent review of mental health and employers published at the end of last year.
The reviewers called on all employers, regardless of size or industry, to adopt six mental health core standards that lay down the basic foundations for an approach to workplace mental health. Large employers and the public sector are expected to go further.
Adair added: "In professional services, we are already seeing international firms publicly enhancing their workplace wellbeing strategies by training their HR teams in mental health first aid."
One financial adviser for a large City law firm told Personnel Today that "the way companies have interpreted the regulation has increased stress hugely – so much is now about avoiding responsibility and putting the blame for when things go wrong on individuals".
He said: "Everything takes much longer. I now have to hand new clients reams and reams of paper – no way in the world will they read them all. Compliance departments are worried about being sued."
Charging systems were a big part of the added worry for employees: "The way that we charge doesn't help. Salaries are basic plus bonus – there's a conflict between wanting to get more business in and meeting the needs of compliance. All the regulation slows you down so there's more temptation to cut corners, particularly as companies still expect the same earnings despite extra regulation.
He added making a mistake and breaching a regulation had a major impact on his health: "It was pretty awful – one of the most stressful things I've been through. Impossible targets led to me making mistakes and my then company was largely unsympathetic. If you breach a regulation you can be out on your ear. Banks have been falling over themselves to be seen to be doing the right thing."
The HSE figures show that in 2017-18 work-related stress, depression or anxiety accounted for 44% of work-related ill health and 57% of working days lost.