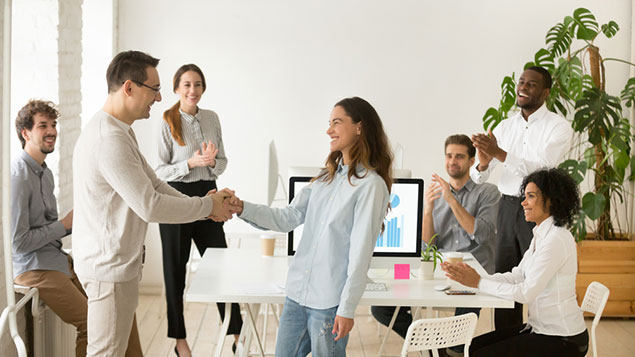 Organisations need to attract and retain the best talent as Brexit skills shortages begin to bite. Nick Throp suggests four ways employers can be creative with their reward strategies. 
As we head for Brexit and a growing crisis in skill shortages, the pressure is on for HR professionals to be more resourceful in helping their organisations attract and retain a dwindling pool of UK talent.
It's not just about a standard offering in terms of salary and perks. The name of the game now is being creative. Getting it right – with a more holistic approach – can help secure the best applicants and ensure they'll give their best work once they're through the door. Here are four ways organisations can rethink their approach to reward.
1. It's not about salary
Traditionally the relationship between employer and employee has been about salary – big numbers to get people on board and big bonuses to make them work harder. We have short memories though, and money, unsurprisingly, is really only a hygiene factor.
Reward strategies
Research has shown that over half the workforce would take a job with lower salary for better benefits. Nowadays you'll find prospective employees are asking themselves… What's the culture like? What are the perks? How fulfilling is the work? How can I learn and develop? How am I treated as an employee? What do other people say? Would I be proud to work here? What do I tell my friends and family?
2. Remember the psychology of reward
Developments in behavioural science have taught us a lot about how humans respond to reward. Research in experimental settings suggests that people are highly adaptive in the way that they weigh up efforts and reward.
A CIPD study into the behavioural science behind rewards shows us that not only do individuals put in more effort when the available reward is greater, but they also seem to conserve energy so it can be increased if needs be to attain the reward.
Over the years, however, it has been shown that money on its own has mixed results as a motivator– often proving to have the opposite effect to the one intended. Praise and recognition, on the other hand, have a lasting impact on someone's desire to continue with a task and to do well.
3. Put theory into practice
Being rewarded meets a basic human need. When we're rewarded for the things we do and for who we are, we feel accepted and that we belong. We all know how rewards can help motivate young children, giving them more confidence about themselves and their abilities as they see their sticker charts fill up.
Reward, compensation and benefits opportunities

Browse all comp and benefits jobs
Grown-ups aren't so very different. From the 'attraction' stage through to 'retention' and 'motivation', the role played by reward at all stages is a critical one as it really impacts the way people think and feel about their employer and affects their subsequent behaviours – whether they're engaged and motivated, and whether they remain that way.
4. Get your messages right
Even the best reward programme possible that encompasses all the potential motivations for your employees will only be effective if people know about it, understand it and see what's in it for them. That's where the power of great communication comes in.
To engage you have to be engaging. Ask anyone what they find engaging in another person and they're likely to say something along the lines of humour, intelligence, enthusiasm and empathy. You can't expect to engage people if your communication has none of these qualities.
In the context of benefit communication, here are some tips that might help you achieve this:
Focus on outcomes not on inputs: Change the message from talking about the practical elements of reward and benefits, to helping people figure out how something can positively impact them now or in the future. For some that might mean 'fun' and 'choice', for others that may mean savings for the family.
Inspiration, not just information: We need to inspire people to take action by telling an engaging and compelling story, rather than just providing them with facts and figures.
Context not content: Effective engagement is about being relatable and honest, to build trust and understanding. To do this, giving clear information about the 'why' is more important than the 'what' or 'how' of a benefit. So, for example, you'll get better engagement by focusing on 'why a certain benefit will be able to help you'.
Above all, follow the golden rule of ensuring all your communications are clear and simple.