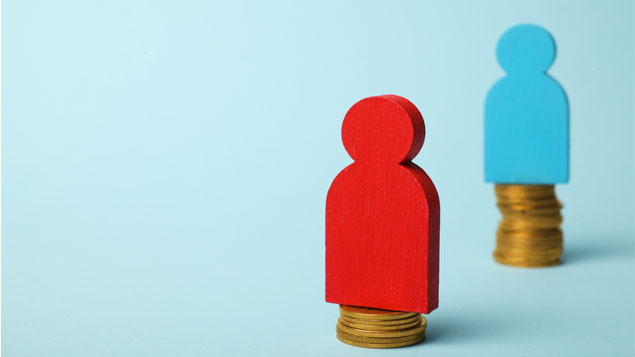 Female pay is rising more quickly than male pay in HR, but men in senior roles are often still paid more than their female counterparts, a report has found.
Analysis of placements made by HR recruiter the Oakleaf Partnership discovered that some industries were making more progress in addressing the gender pay gap in their HR departments than others.
In the financial and professional services sector women in HR were, on average, receiving 4% higher pay increases than their male counterparts when moving role over the last financial year. However, men were still paid more than their female colleagues for carrying out the same job.
In entry-level HR positions in the financial and professional services sector, male salaries were 16% lower than females', which Oakleaf suggested might deter men from applying for these roles.
"Within the financial and professional services sector our clients will often seek the 'best possible deal' when deciding what to offer a candidate rather than offering individuals what they genuinely deserve," said Gareth Evans, associate partner at Oakleaf's financial and professional services team.
"Too often we are dealing with a hiring manager's view on what minimum pay rise is acceptable rather than considering the skills and talents that a hire brings to the table, against the backdrop of market supply and demand."
Senior male average pay remained notably higher than senior female average pay in the reward and analytics (R&A) sector; Oakleaf identified a 21% gender pay gap in senior roles, but a -1.07% reverse pay gap (in favour of women) in junior R&A positions.
Analysis of commerce and industry HR placements also found a reverse gender pay gap across almost all levels of seniority, apart from junior positions. However, it noted that 80% of the candidates it placed in this area were women.
The Oakleaf report – The HR Gender Pay Rise Gap – also found that women in payroll positions were "consistently receiving greater rises than their male counterparts". Women in mid-level payroll positions received an average 32% pay rise when changing jobs – the highest average pay increase across its survey.
It suggested that "historic pay disparity" within HR remained, with senior female pay stagnating as women took time out to raise a family.
"We can't ignore the fact that it is 2018 and that in reality the one profession that should have strived to avoid these kinds of stereotypes should surely have been HR?" the report stated.
"It is disappointing to think that HR is, in some ways, playing catch up along with many other professions when this issue has been on the HR agenda for a number of years and is now highlighted with both gender pay reporting requirements and our report findings."