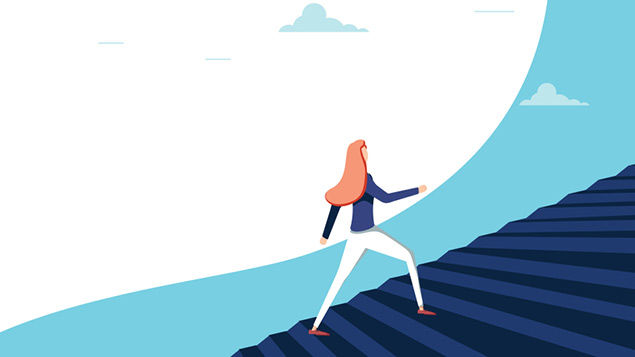 "I am a firm advocate of HR as a disruptive movement. We are not there as the personnel department of old times or custodians of the handbook, but more as people experts trying to empower employees to live their best lives at work."
So says Sarah Pinchbeck, an HR professional with five years' experience. With such a bright and varied future ahead, it's easy to see why you might be looking to further your career in HR. Within this world of opportunity, however, it can be difficult to know what career turn to take, and how to get the roles you want. That's why we asked a range of experienced HR professionals for their tips on how to progress.
The hardest and most demoralising thing would be to blag your way into a higher-level role that you are not ready for – it could be really damaging"
While it might sound counter-intuitive, the top tip is not to rush. "I don't think growth in an HR career can be fast-tracked," says Jo Vernon who works in HR for a law firm and has 21 years' experience. "My advice to anybody would be to grab as much experience and exposure as you can so that you can develop your own skillset and your understanding of business or the business that you're in."
There are two benefits to this approach. The first is that it allows you get the basics right. The ability to advise on and manage tough procedural issues is the "bread and butter of HR" and "something leaders value", according to Andrew Turner, who has worked in HR since 2002. It also protects you from running before you can walk. As Pinchbeck warns: "The hardest and most demoralising thing would be to blag your way into a higher-level role that you are not ready for – it could be really damaging."
HR career guidance
But patience does not mean waiting for the promotion to come to you. "You can so easily become stuck in a rut doing the same role and get comfortable," says Pinchbeck. "If you haven't had exposure to something in your knowledge gaps, go and get it!"
You don't need to wait for formal development opportunities for this, either; there are plenty of informal ways to get the exposure you need. Many of our experts mentioned shadowing, note-taking and getting involved in any projects that crop up across the organisation as great ways to gain experience.
"Identify what is blocking you getting to that next level and ask to shadow/ note take so that you can start to build your knowledge," advises Hannah Townsend, who has worked in HR for seven years. "When you are confident, ask your manager/ colleague to shadow you to give you feedback."
More formal feedback could come from a mentor, however. Pinchbeck found this to be brilliant professional development, though she says that learning to be open to feedback is a tough, but important, skill. "Once I found that the feedback was coming from a place of love and wanting me to succeed, I really began to develop," she says.
Whatever your route to promotion, you will always find support and vacancies at Personnel Today Jobs. For further tips and advice, including whether to specialise, check out our Complete HR Career Development Guide.