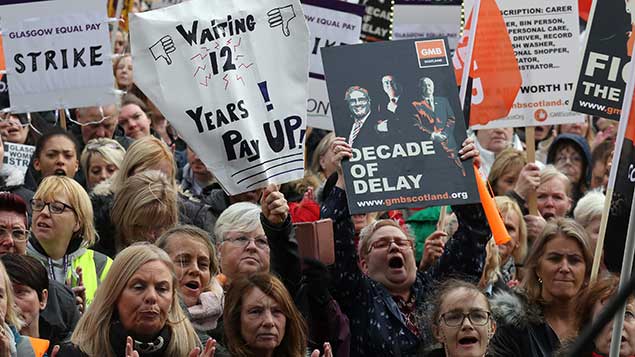 Thousands of female council workers in Glasgow could receive payouts reaching more than £500m after their union representatives agreed a deal with Glasgow City Council to resolve historic equal pay claims.
In October last year, hundreds of schools and nurseries closed in the city after around 8,000 workers held a two-day strike to protest about the long-running equal pay dispute.
The workers have been embroiled in a 12-year battle to receive back pay following the introduction of a job evaluation scheme (JES) in 2006 – a trend common across public sector employers at the time.
The claimants argued that the JES had the effect of discriminating against women by excluding them, and that male-dominated groups had been given the benefit of pay protection after they lost bonuses.
According to the claimants, as these bonuses favoured male groups, the way in which the pay protection scheme operated was fundamentally discriminatory against women.
In May 2017, in the case of Glasgow City Council v Unison and others, the Court of Session upheld an earlier Employment Appeal Tribunal decision that the pay protection scheme was discriminatory against women.
Another group of claimants won a case in November 2017, after which the Council promised to settle all historical claims.
Yesterday, Glasgow City Council and the equal pay claimant group, comprising Action4Equality Scotland, Unison, GMB and Unite, confirmed they had reached an agreement in principle on a package of payments to resolve the claims.
Susan Aitken, leader of Glasgow City Council, said she was "delighted" that the offer had finally been agreed.
"We were clear that this was always likely to take at least a year and the sheer volume of cases involved and the complexity of the Council's pay and grading arrangements were such that this was never going to be easy. My commitment to resolving this issue has never wavered and I have never needed to be convinced of the case for equality," she said.
She thanked council officers and claimants for their patience, adding: "After a decade of obstruction and inaction, in a relatively short space of time we have now reached agreement which delivers the pay justice these women long have fought for.
"I am proud to be able to recommend a settlement to right this historic injustice and I trust colleagues across the chambers will support this deal and the work we must undertake to address the future challenges it places before us."