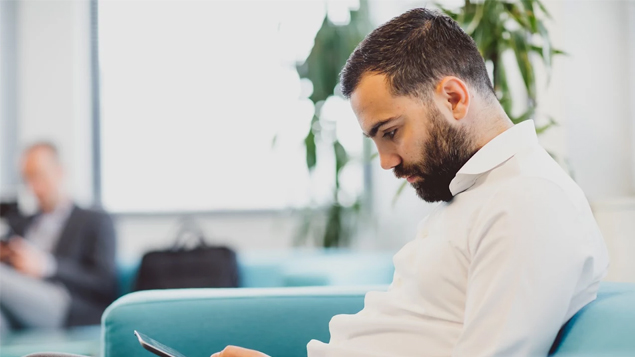 Trying to balance your professional and personal commitments is always a challenge but at Manchester Met we make things possible.
Accessible learning for busy working professionals 
With an increasing demand for accessible and flexible learning, we have launched a Global Online MSc in International Human Resource Management giving HR
professionals across the Globe the opportunity to graduate with a master's degree.
Delivered 100% online and offering flexible learning with access to a virtual learning platform 24/7, we are giving you options to study anytime, anywhere.
Global Online MSc International HRM
Our MSc in International Human Resource Management is designed to equip HR practitioners across the globe with the understanding and confidence to lead in a diverse workforce. Throughout the programme, you will cover topical issues including: how to attract and retain top talent and explore challenges on working in a global context via discussion and debate. You will be led and taught for the duration of your degree by experts in their field who have a wealth of industry experience.
Make online learning work for you with Global Online
Work at your own pace
Throughout your Global Online study experience, you will have access to a tailored virtual learning environment where you will study 8 units and complete your dissertation over a 2 year period and participate in a variety of interactive exercises to help you successfully complete the programme. You will also have access to a bespoke online study planner which will help you to prioritise and manage your time, ensuring you have sufficient windows for work, life and study.  

Grow your virtual and collaborative working
Online learning isn't a solitary experience. Week on week you will take part in virtual activities and group work, collaborating with students from across the world.  You will also receive ongoing support from your tutors as well as our dedicated Student Services team who will help you throughout your study journey.

Be part of a community
Take the opportunity to join in with interactive tasks and quizzes which will ultimately help you complete your units. You can also take advantage of the inbuilt social space which empowers you to ask questions, share ideas and knowledge with like-minded business professionals on your course.
Tap into Careers and Employability support
Let's not forget the end goal! Whether you're seeking career development, progression or a change of career in its entirety, don't forget the continued support that Manchester Met provide for up to 3 years post-graduation. As one of our alumni, we will help you succeed in your choice of career, offering you CV support, employment guidance and more.

Our dedicated Global Enrolment team are ready to talk you through your options.
Register your interest to find out more and get ready to prepare, share and develop your knowledge.