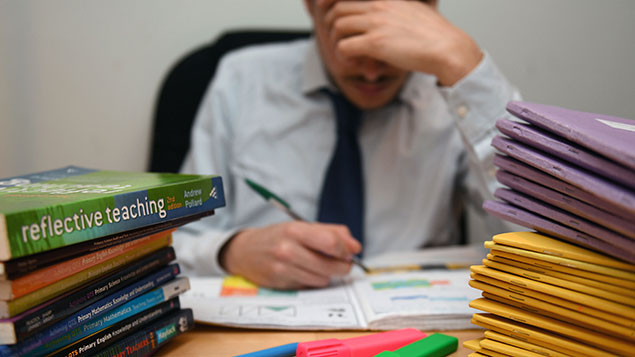 Teachers are to be offered cash incentives and more support with work-life balance in a bid to attract more recruits and stem the flow of teachers leaving the profession.
The Department for Education published plans today to offer certain teachers "retention-based payments" for staying in the profession, in addition to up-front bursaries.
In mathematics, for example, new teachers receive additional tax-free payments of £5,000 in their third and fifth year of teaching, rising to £7,500 in more challenging schools.
These incentive payments are set to be phased in more widely, with around 40% of the government's bursary budget focused on retention, which it says marks "a fundamental shift in bursary policy to support both recruitment and retention".
Education secretary Damian Hinds said the plans had been developed alongside teachers, education unions and professional bodies. It aims to recruit 30,000 classroom teachers every year and support the 450,000 already working in schools in England.
New teachers will also receive a two-year package of training and support at the start of their career, which includes a reduced timetable so they have more time to focus on training. The DfE describes this Early Career Framework as "the biggest teaching reform in a generation".
As part of the framework, new teachers will receive improved access to curriculum resources to remove the expectation that they must plan lessons from scratch, which adds to their workload.
The DfE also hopes to offer greater opportunities for flexible working by launching a new job share service, offering schools free timetabling tools so they can work these arrangements into their planning.
There will be scope for teachers who want to remain in the classroom rather than go into management to follow non-leadership career routes, as well as additional financial incentives for those working in challenging schools.
In November 2018, a report by the National Foundation for Educational Research found that between 2010-11 and 2014-15, the rate of working age teachers leaving the profession each year had risen from 8.9% to 10.3% in primary schools and 10.8% to 11.8% in secondary.
Hinds said: "When I took this job a year ago, I made championing teachers my number one priority. Over the past year I have worked with Ofsted and the unions to bear down on workload. I think teachers work too many hours – aggravated by unnecessary tasks like excessive marking and data entry, spending more than half their time on non-teaching tasks.
"In a competitive graduate labour market we must continue to ensure that teaching is an attractive profession so we can train and retain the next generation of inspirational teachers. Working with teachers, school leaders, trusts and unions, this strategy will help to support teachers to do what they do best – teach."
Geoff Barton, general secretary of teaching body the Association of School and College Leaders, said the Early Career Framework had the "potential to be a game-changer".
"By providing teachers with support and development during the first few years of their career and helping them to flourish in the classroom, it can help to raise the status of teaching to where it deserves to be: as a life-enhancing vocation," he said.