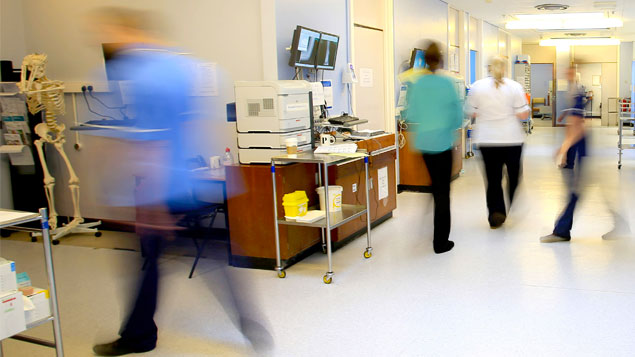 More than half of NHS staff have gone into work despite feeling unwell, the latest NHS staff survey has found, as many experience "unwelcome pressure" in their roles.
According to the 2018 NHS staff survey, 56.5% of NHS employees carried on with their duties while feeling unwell in the past three months, rather than taking time to recuperate.
Four in 10 (39.8%) reported feeling unwell as a result of work-related stress over the past 12 months – the highest proportion of stressed workers the survey has found in five years – while close to three in five (57.8%) said they were working extra unpaid hours on a weekly basis.
Just 28.6% said their organisation took positive action on health and wellbeing, down from 31.8% in 2017. This resulted in an overall decline in perceived staff health and wellbeing compared with the previous year.
Danny Mortimer, chief executive of NHS Employers and deputy chief executive of the NHS Confederation charity, said staff were feeling "unwelcome pressure" for a variety of reasons, not least the effects of understaffing in many areas of the organisation.
"Importantly, they are telling employers that there is still more to do to address the issue of discrimination and bullying and to support their wellbeing," he said.
The survey found 19.1% of NHS employees experienced at least one incident of bullying, harassment or abuse from colleagues in 2018. More than a quarter (28.3%) were bullied or harassed by a patient, relative or member of the public and 13.2% were on the receiving end of such behaviour from managers.
It was revealed earlier this week that almost 600 formal complaints of bullying and sexual harassment by NHS staff were reported in 2017-18, though this figure is believed to be the "tip of the iceberg", according to the chair of the British Medical Association.
"The investment in the NHS confirmed by the government will go some way to alleviating pressures on our teams," said Mortimer. "However, this investment will struggle to make enough of a difference if we cannot find and keep more people."
Neil Churchill, director of patient experience at NHS England, said: "NHS staff regularly go the extra mile for their patients and colleagues to deliver the best possible care, but it is equally important that local NHS trusts and foundation trusts are doing all they can to support our fantastic staff.
"Whilst there are a number of positives in this year's survey, it is also clear that local employers can do more to improve and we would expect all trusts to listen to the results from their staff survey and take appropriate action."