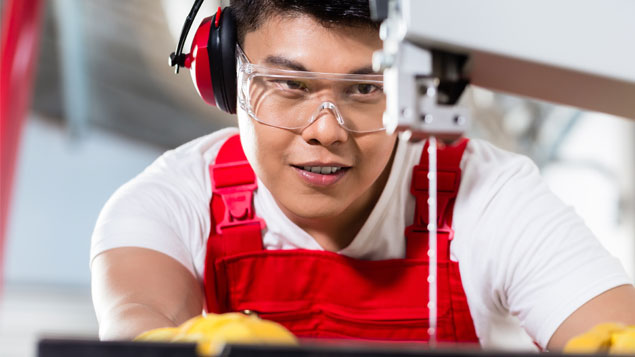 More than half of staff who wear prescription glasses and need further eye protection at work are given safety over-goggles rather than prescription safety eyewear, which can affect the quality of vision.
Fifty-five per cent of employees who need eye protection as well as their usual prescription glasses are provided with safety over-goggles, a poll of 507 HR professionals found, while only 28% were offered safety goggles that were manufactured to the prescription they needed.
Furthermore, 18% of staff were left to source their own prescription safety eyewear if they wished, despite eye protection being required to carry out their role safely.
Specsavers Corporate Eyecare, which commissioned the research, suggested cost was the main issue stopping employers from offering staff prescription safety glasses. Fifty-eight per cent of organisations thought such glasses were priced more than twice the amount they are actually available for.
"The wearing of goggles on top of glasses can cause an increase in light reflection between the two sets of lenses. This can impact the quality of vision. There is also an issue of physically wearing two sets of appliances, which can be awkward, heavy and uncomfortable," said Jim Lythgow, director of strategic alliances at Specsavers Corporate Eyecare.
Specsavers said prescription safety glasses are more suitable for workers who need safety eyewear on a regular basis, while over-goggles should only be worn by those who need them occasionally or by visitors.
Last year a woman with glaucoma won her case for unfair dismissal following the termination of her employment at a salad preparation company, after changes made it impossible for her to carry out her role. The company began using fresh onions instead of dried and frozen ones, which caused her pain in her eyes. She was provided with goggles to put over her usual glasses, which then steamed up while she was working.