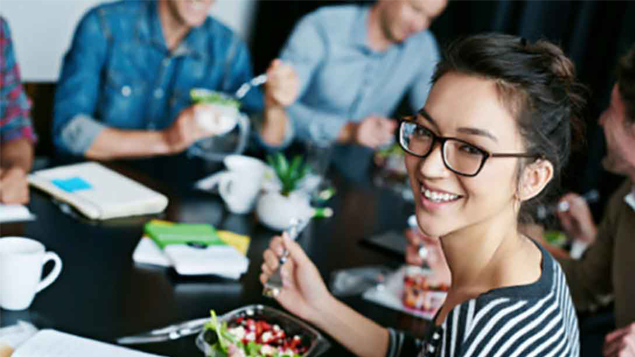 A major study by leading economists at the University of Warwick revealed that employee wellbeing can lead to a 12 percent hike in productivity. Conversely, employees who are generally unhappy in their workplace were found to be 10 percent less productive.
For so many people, health, wellness and happiness are inextricably linked. Therefore employers who take an active role in promoting healthy lifestyles within their workforce could reap the benefits of improved productivity and profitability.
What does loss of productivity cost businesses?
In the financial year 2013/14, 11.3 million days of work were lost in the UK due to mental health-related illnesses such as anxiety, depression and stress. To put that number into perspective, this means that each employee lost an average of 23 days at work over the course of the year. This costs businesses in terms of lost sales, operational issues and morale.
According to Integrated Benefits Institute, poor health cost the U.S. economy $576 billion a year. Of that amount, 39 percent ($227 billion) is from "lost productivity" when employees report to work, but illness keeps them from performing at their best (Forbes'12).
By investing money in a strong wellness programme in the workplace that encourages physical and mental health, businesses and organisations can actually save money in the long run.
Exercise and diet makes employees happy and healthy.
The Mayo Clinic shows that exercise delivers a range of benefits including stress-relief, better cardiovascular health, improved self-esteem, stress relief and boosted endorphin levels, all of which have a positive effect in the work space.
A balanced diet is just as important as regular exercise. If your employee's breakfast and lunch contains fatty or sugary foods, this can make them feel lethargic and demotivated at work. The simple solution of adding antioxidant-rich foods to a diet raises your employee's immune system, allowing them to be more productive and lessen their chances of illness.
Some relatively new research published in the British Journal of Sports Medicine revealed that regular aerobic exercise can boost the hippocampus of the brain. This is the area where learning and verbal memory is controlled. So, not only will regular exercise keep employees happier and healthier, it could also improve their mental dexterity.
So what can employers do to promote health and happiness in the workplace?
Company wellness programmes are now being adopted by businesses of all types and sizes. An increasing number of businesses and organisations understand that investing in and prioritising schemes to promote health and wellness amongst employees not only creates an environment where a higher quality of work can be produced, but also results in cost savings by the whole business.
There are several ways to promote a healthy lifestyle within an organisation, but a growing number of businesses are choosing to introduce corporate wellness programmes to encourage employee to be more active.
Fitbug, for instance, provides a comprehensive digital wellness programme to empower employees and enable them track and manage their activity, nutrition and sleeping habits. Company bosses can set the basic direction of their employee's wellbeing programme via a fitness app, and monitor results to track their progress.
Other features of the programme include the Kiqplan app which caters to specific goals such as weight loss and strength training. These plans are flexible and provide exercises, dietary recommendations and fitness goals that are tailored to the needs of individual employees.
The entire package is designed to encourage a healthy lifestyle in the workplace and provide a lasting financial benefit to your business.