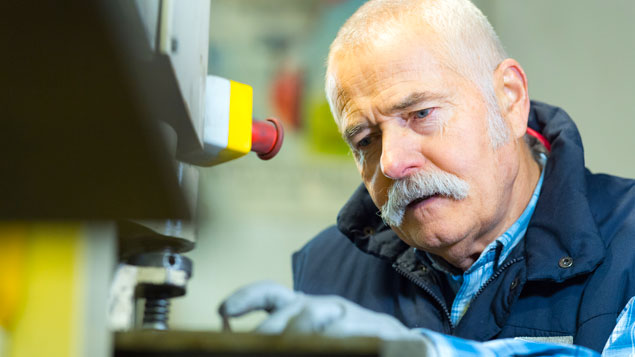 More than one-third of unemployed people aged 50 to 64 are unable to work because of ill health, making it the main barrier to employment for this age group.
Office for National Statistics (ONS) figures show that 37% of men and 35% of women aged 50-64 who are unemployed but would like to work, are unwell or have a disability that prevents them from getting a job.
Older workers' health
Comparatively, the Living Longer: Fitting it all in – working, caring and health in later life report says only 2% of women and 3% of men in this age bracket have chosen to retire.
"Within the older working age population, there are 866,000 potential workers aged 50 to 64 years who would like to work but can't," said statistician Sarah Crofts at the ONS Centre for Ageing and Demography.
Forty-four per cent of people aged 50-64 have a health problem lasting or expected to last longer than a year. Only 58% of those polled were working in the month prior to the survey taking place, compared with 81% of people without a health issue.
The data was collected via the ONS's Annual Population Survey of around 320,000 people.
Supporting older workers
More flexible working opportunities could help older people stay in work longer, with a government-commissioned survey finding in November that 78% of over-50s want more flexible hours and 73% want more part-time roles to be introduced.
Furthermore, the Centre for Ageing Better last year found that a quarter of staff aged 55 or over with a health condition are considering leaving work, suggesting that employers were not providing enough support for them.
Patrick Thomson, senior programme manager at the Centre for Ageing Better, said: "With the right support from employers, through flexible working options and adaptations, more people could be helped to stay in work. As more of us work for longer, workplaces need to catch up to make sure that good quality work becomes the standard not the exception.
"Government must promote a joined-up approach to support health in work, particularly for slow-onset, age-related conditions, and give guidance to employers and workers on what support is available."
Help for those with multiple conditions
Organisations and the government could help reduce the number of older people who are unable to work for health reasons by offering more support to those with multiple conditions, suggested the Health Foundation think tank.
"This could include initiatives to support patients to better manage their conditions, such as health coaching or social prescribing," said Sarah Deeny, the Health Foundation's assistant director of data analytics.
"It is also critical that primary care is properly resourced, particularly in deprived areas, because we know that people with multiple conditions attend general practice more than any other NHS service and rely on GPs to coordinate their care.
"Good work is vital for people's health and wellbeing. By providing good work for all, we can reduce socio-economic inequalities and create a healthier society."
The ONS said it was important that people tried to extend their working lives to help reduce the pressure on the government and society in terms of pension payments and the healthcare system. The population aged 65 years and over is now growing faster than the working age population.
Men can expect to live for around 15 years and women around 20 years after leaving the workforce, while in 1960 there was very little difference between life expectancy and the age at which a person stopped working, particularly for men.