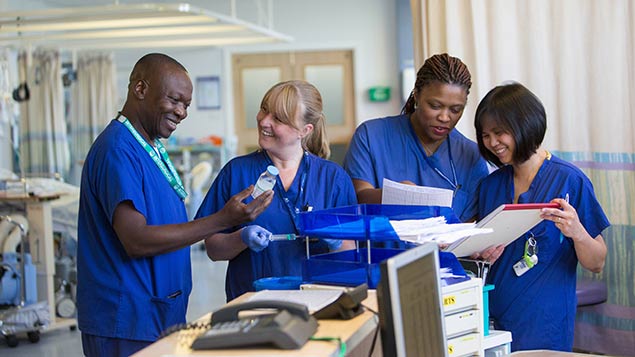 While Theresa May was yesterday making her statement to the House of Commons chamber on the Brexit withdrawal agreement, health sector representatives were hearing a message of sobering potency in a neighbouring side room.
The Brexit Health Alliance's parliamentary reception, hosted by MP Sarah Wollaston, focused on how to safeguard healthcare in the post-EU setting. Each of its speakers emphasised that this was in no form an anti-Brexit campaign but was aimed at informing politicians of the risks of the severance for patients in this country and in the EU.
According to a YouGov poll published last month (October) a clear majority of the UK's doctors and nurses think that the NHS will struggle after Brexit, with the result being longer waiting times and staff shortages.
The NHS workforce
About 64% thought the NHS would deteriorate after Brexit, compared with 7% who said it would improve, while 57% said that the overall quality of care provided by the NHS would go down.
Against this backdrop it was interesting to hear Sam Allen, chief executive of the Sussex Partnership NHS Foundation Trust, tell the meeting that the workforce was a key factor in ensuring patient care standards did not fall.
The NHS, she said, had a responsibility and duty to be mindful of the wider issues that affect the wellbeing of its staff. "Being a caring employer is fundamental to the quality of care we provide to patients," she said.
"The diversity of our workforce is a huge asset and something we should cherish. I'm worried about our EU staff. Many are feeling anxious and uncertain. But they continue to come to work every day and do their best for patients and the NHS."
Allen explained how one of the nurses at Sussex had lived in the UK with her partner for 15 years yet had been refused a British passport. Her son had one, however, and had a secure future. But she had maintained her commitment to the NHS and UK healthcare.
For Allen, workforce – the recruitment and retention of nurses, doctors and social care staff who were "keeping nursing homes open" – was the "number one issue".
According to the NHS's One NHS, Many Nationalities report last month, about 63,000 NHS staff in England are EU nationals – 5.6% of all staff and about one in 10 of hospital doctors. Overall, 12.7% of NHS staff say that their nationality is not British.
The diversity of our workforce is a huge asset and something we should cherish. I'm worried about our EU staff" – Sam Allen, Sussex Partnership NHS Foundation Trust
London would be worst affected by the skills shortage, with one-third of all NHS staff from EU countries living and working in the capital.
However, the NHS report stated that the only groups of staff that have so far seen a decline in EU national numbers since the referendum were health visitors and nurses. And Spanish nationals were the only group to have seen a substantial recorded decrease since June 2016, from 7,240 to 6,160 (a fall of 15%).
Allen was also particularly concerned that the vast majority of funding for medical trials at the Sussex trust, which operates hospitals, clinics and mental health centres across the South East, came from the EU and there was a need to attract the best staff from the EU and beyond to conduct trials.
She also said that a major negative economic impact after Brexit would cause a spike in mental health referrals: "We're concerned at the effect of problems in the economy on mental health. We know there's a link."
Allen concluded: "Its important that we listen to, respect and support staff. We need to be honest with our EU staff about the potential impact of Brexit on the NHS. We must promote the diversity  of opportunity of our staff. We must tackle any inequality and discrimination in whatever form it takes. And we must recognise the importance of social care."
Just-in-time supply chains
Other speakers at the meeting detailed the threat to the critical just-in-time NHS supply chains posed by unfavourable Brexit terms.
Philip Kennedy, chair of the Association of British HealthTech Industries, underlined how more than half (60%) of devices used by the NHS were imported, adding that "disruption would be significant if supply chain interrupted".
Other major concerns discussed were the regulatory environment for medicines and devices, the ending of reciprocal healthcare agreements (with serious implications for UK staff working in the EU and pensioners), the impact on research and innovation as research firms pull out of the UK and NHS trusts are excluded from European Reference Networks, and the weakening of public health and disease prevention.
Niall Dickson, chief executive of the NHS Confederation, said: "We're urging politicians on both sides of the Channel to put patients first. What we say about protecting patients is absolutely critical."
A no-deal scenario, said several speakers, would lead to "disastrous consequences" including the loss of life.