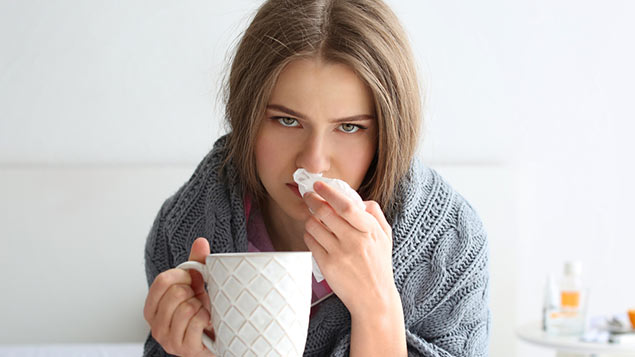 A healthcare provider that employs 7,000 staff has been imposing a £50 charge on employees who call in sick without giving 24 hours' notice.
Newcross Healthcare provides nurses and care workers for hospitals and residential homes, making a pre-tax profit of £21m in 2017. The company told the Guardian, which has been investigating its practices, that it would scrap the charge by April this year.
Sickness absence
The newspaper's investigation revealed that one employee had had their wages docked after crashing their car on the way to work and sustaining significant injuries.
A pregnant worker who called in sick with vertigo was fined even after offering her bosses a doctor's note. And staff allegedly saw their pay docked after missing shifts because of a cancer scare.
Many examples of workers being charge can be seen on the Glassdoor and Indeed websites. At Indeed one worker wrote: "[It's a] horrible company to work for. They charge £50 if you go off sick. I am full-time hours but getting hours for a part timer. Well at least the owners are making millions."
The firm's employee handbook confirms the existence of the charge, stating: "It is important that you provide as much notice of any planned or unplanned absence as soon as possible as it can cause considerable difficulty and expense when trying to find alternative cover. Where you have accepted an assignment and you subsequently fail to attend without reasonable notice or valid reason, we reserve the right to make an administration charge [which may be recovered from you in accordance with clause 6.14 of your contract of employment]."
HR opportunities in Healthcare on Personnel Today

Browse more HR opportunities in healthcare
Anthony Sakrouge, head of employment at Russell-Cooke LLP, told Personnel Today that although such charges are rare, the practice is legal if the company is not imposing the charge where there is a genuine reason for absence. If the charge is applied where there is a genuine reason for the absence and the failure to give 24 hours' notice, however, that might in some circumstances constitute disability discrimination, a breach of the implied duty of trust and confidence, or both.
Whistleblower
A whistleblower, a former business centre manager who left Newcross in 2018, said that regional managers pressured branches to impose fines on sick staff regardless of the cause of absence and that care homes were forced to send home staff who decided to work despite sickness to avoid being charged. The former manager also alleged that managers were invited to a five-star hotel in Gibraltar each year for a lavish sales awards event.
The whistleblower told the Guardian: "We were targeted each week as to how many hours we would fill with our staff. I was up to about 3,000 or so hours a week to fill across all my staff."
A Newcross Healthcare spokesman told the Guardian the firm was not an agency and employed staff on permanent contracts and offers guaranteed hours.
He said the practice of charging was included in workers' legally binding agreement as part of their contract of employment and added: "The 24-hour protocol is to ensure there is no disruption in patient care and to protect those who rely on our employees to attend their shifts once they have accepted them.
"Patient care is absolutely paramount to us and we take very seriously our commitment to deliver for our clients and to follow Care Quality Commission (CQC) regulations [in England and their equivalent elsewhere in the UK].
"The administration charge is being phased out and will cease in April 2019. We are rolling out a new internal app that allows our staff to auto assign shifts. This technology will enable us to fill any shifts that become available quickly and efficiently.
The spokesman added: "At present, if someone is genuinely ill, they should not be working. Each cancellation is reviewed by a line manager and if there is a genuine reason for absence, we do not administer a charge. For instance, in 90% of cases in the past calendar year, this administration charge wasn't applied. There is also an appeal process for employees who feel it has been incorrectly administered. We have appeals that have been successful and unsuccessful."
The firm, which also provides staff for prisons, hospitals and schools, is owned by Newcross Nursing Group, which in turn is owned and controlled by Beluga Rock Holdings, a firm registered in Gibraltar. It operates about 60 branches across the UK and has a 3.4 (out of 5) review rating on Glassdoor and 3.1 at Indeed.
Its founders, Stephen Pattrick and Michelle Gorringe, live in Gibraltar. Pattrick is also the chief executive of the motor sports team Bullitt Racing and has driven for the team.