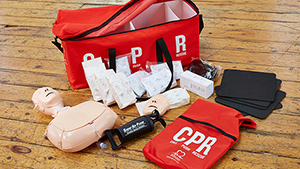 Chances are you wouldn't know where to begin. Each year over 30,000 people in the UK suffer a cardiac arrest out of hospital, either in the home, the workplace or anywhere in between.
That's 30,000 opportunities to help save a life.
Cardiac arrest is the ultimate medical emergency and is often witnessed by family members, friends or work colleagues. When someone has a cardiac arrest their heart stops pumping blood around their body and to their brain.
"Thanks to CPR I'm still alive today"
Angus Nicoll (64) owes his life to two Openreach engineers working in a remote spot on the Isles of Scilly. He was out running when he had a cardiac arrest. Luckily for him, he was spotted by Simon Hibbin and Richard Sellick, both of whom had received CPR training at work.

Straight away they could see that he wasn't breathing; his eyes had gone dark and he wasn't responding. They knew exactly what to do and acted immediately.

After calling 999, they performed CPR until the air ambulance arrived and, so, helped save Angus's life. He's the first to pay tribute to their life-saving skills. "Thanks to them I'm still alive today", acknowledges a grateful Angus.
The person will fall unconscious and stop breathing, or stop breathing normally. Without help they will die within minutes. However, performing effective and immediate cardiopulmonary resuscitation (CPR) can buy time until paramedics arrive and, in some cases, can actually double the chance of survival.
A fact of life and death
In the UK, fewer than one in ten people survive an out-of-hospital cardiac arrest. Yet in Norway, where CPR training is widely available, survival rates are as high as one in four.
If the UK achieved the same rates as Norway, we could save the lives of an additional 5,000 people every year.
Creating a Nation of Lifesavers
The British Heart Foundation (BHF) is aiming to create a Nation of Lifesavers. By making CPR training easily available, everyone can gain an invaluable life saving skill they can use at work and in the wider community.
What's more, for a company, it means playing an important role, alongside other businesses, schools and volunteers, in a nationwide effort to help save lives.
It's easy to learn. The BHF's effective CALL PUSH RESCUE® Training Kit has been developed by world-leading experts. The three simple steps only take 30 minutes to learn.
Indeed, it's so simple to use that thousands of secondary school children have already learnt these life-saving skills. Proven and effective, it includes everything you need to get CPR up and running in your workplace.
"You're not going to die"
Ghayan Briggs' children were playing at home when, all of a sudden, he heard a thud. Running upstairs he discovered his six-year-old son, Jadyn, lying on the floor. His eyes were open with a blank stare and it didn't look like he was breathing at all.

Acting instinctively, Ghayan put him back on his back and started performing CPR – a life saving skill he'd learnt through work. The training gave him the confidence to know what to do. Even though it was his son, he tried not to panic and just kept saying to him, "You're not going to die here, you're not going to die today".

Ghayan was able to keep going until the paramedics arrived along with a defibrillator. Thankfully, Ghayan's quick thinking and CPR training had given his son the extra precious minutes needed to help save his life.
Re-usable, your kit comes in a handy carry-bag with the necessary equipment to teach 10 people at a time:
a Welcome Pack filled with everything you need to get CPR training up and running in your workplace (includes posters, a motivational video, top tips and much more)
lightweight inflatable and portable manikins
practice-while-watching training DVDs
kneel mats for comfort while training
cleaning wipes.
A life-saving business decision
Although CPR forms part of the usual first aid training, many companies have just one person qualified to administer first aid. Cardiac arrest can happen anywhere, at any time, and a first aider might not always be available.
Providing you, and your colleagues, with the opportunity to learn this life saving skill is invaluable.
What's more, CPR training is a quick, effective way of equipping everyone with a life saving skill using the following three simple life saving steps:
CALL 999 immediately
PUSH hard and fast on the chest 30 times
Give two RESCUE breaths.
You'll also learn to keep going until the emergency medical services arrive. And, should you choose not to give rescue breaths, the training DVD explains that calling 999 and delivering hands only CPR is much better than doing nothing.
For a one-off cost of just £380 (plus VAT) you can roll out this training across your workplace at a time to suit you and with minimum fuss.
HELP LEAD A LIFE-SAVING REVOLUTION
Angus and Ghayan's stories are just two of the many where CPR workplace training has already helped save a life. You can help build a Nation of Lifesavers by ordering your CALL PUSH RESCUE® Training Kit online.