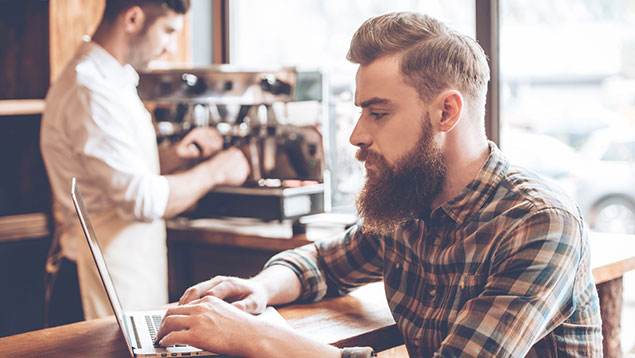 Roles involving beards, tattoos, downward dogs, artisan coffee and no doubt the odd craft beer are playing an increasingly important role in the UK economy.
New data pulled together by Indeed shows that the demand for baristas, according to the numbers of roles advertised on the job board, is more than four times as great as it was four years ago, while numbers of opportunities for yoga instructors, bartenders and tattoo artists have also soared.
The rate of job growth ranges from 181% (for baristas) to 70% for yoga teachers since 2015.
Indeed stated that hipster culture has shifted from its previous alternative status to become such a mainstream presence that a "hipster service economy" has sprung up to cater to its tastes, while jobs once derided as the preserve of hipsters are now taken seriously and have crossed into the corporate sphere.
Jobseeker interest in the roles defined by Indeed as directly affected by hipsters has more than doubled in the past four years, increasing from 205 searches per million in January 2015 to 469 searches per million in December 2018.
Salaries among these fast growing roles have also risen rapidly. The data shows that tattoo artists on average can expect to make £44.10 per hour, with yoga teachers typically earning £21.98 per hour – well above the national average of £15.37 per hour. However, baristas (£8.10 per hour) and bartenders
(£8.53 per hour) still lag behind in the pay stakes. Of course, the sharp differences in the hourly rates may be explained by the fact that yoga teachers and tattoo artists often work for short, more concentrated periods, whereas baristas and bartenders work longer shifts.
Bill Richards, UK managing director of Indeed, noted that studies had shown young people were drinking far less alcohol than their elders had at the same age, helping fuel the boom in coffee shops. He said: "As the number and combined spending of hipsters rise, so too do the fortunes of the 'hipster service economy' catering to their needs.
"A decade ago, few would have predicted that demand for baristas would outstrip that for bartenders, as coffee has moved into the mainstream and millennial attitudes towards alcohol have changed."
Less focus on clothing and being in present in offices were among the benefits of the rise of hipster work, said Richards: "More informal dress and flexible remote work from coffee shops – once the exclusive domain of hipster tastemakers – have become increasingly common in a range of industries, and it's striking that this has also sparked a wider jobs boom."
He added: "Intense competition between employers is in turn forcing them to fight hard for recruits, by offering more attractive pay packets and other hipster-friendly perks."