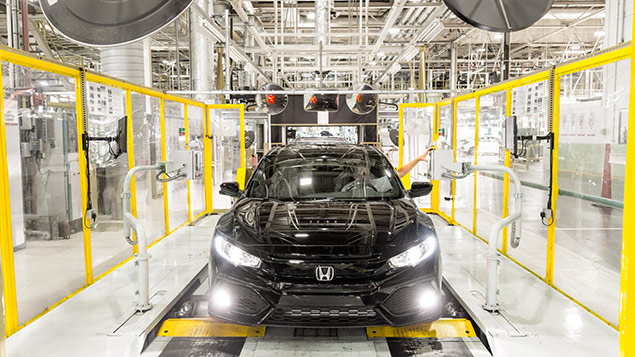 Honda has confirmed that it proposes to close its manufacturing plant in Swindon in 2021, with the loss of around 3,500 jobs.
The Japanese car maker said this morning that it is accelerating its "commitment to electrified cars, in response to the unprecedented changes in the global automotive industry" and will cease making the Civic in the Wiltshire town, when the model comes to the end of its production cycle.
We deeply regret how unsettling today's announcement will be for our people" – Katsushi Inoue, Honda
Honda has denied the Swindon factory's closure is linked to Brexit, but the move follows other car makers' warnings, including Nissan, Toyota, Ford and BMW, about the impact of the UK's departure from the EU.
Katsushi Inoue, president of Honda Motor Europe, said: "In light of the unprecedented changes that are affecting our industry, it is vital that we accelerate our electrification strategy and restructure our global operations accordingly.
"As a result, we have had to take this difficult decision to consult our workforce on how we might prepare our manufacturing network for the future. This has not been taken lightly and we deeply regret how unsettling today's announcement will be for our people."
The business secretary Greg Clark described the news as "devastating".
Honda said the "significant challenges" of vehicle electrification will see it revise its global manufacturing operations, and focus activity in regions where it expects to have high production volumes. Under this proposed restructure, the Swindon plant's current role as a global manufacturing hub may "no longer be viable".
Honda, which began manufacturing in Swindon in 1986, said it will begin consulting with employees and the trade union Unite today. Honda director Jason Smith said; "We understand the impact this proposal will have on our associates, wider supplier base and the local community. We are committed to supporting associates to help them through this difficult time."
Unite national officer Des Quinn said: "The car industry in the UK over the last two decades has been the jewel in the crown for the manufacturing sector and now it has been brought low by the chaotic Brexit uncertainty created by the rigid approach adopted by prime minister Theresa May."
He added the announcement would have a grave impact on workers and their families, but it "will also affect thousands of jobs in the extensive supply chain across the country".
Honda's European HQ will continue to be located in Bracknell.