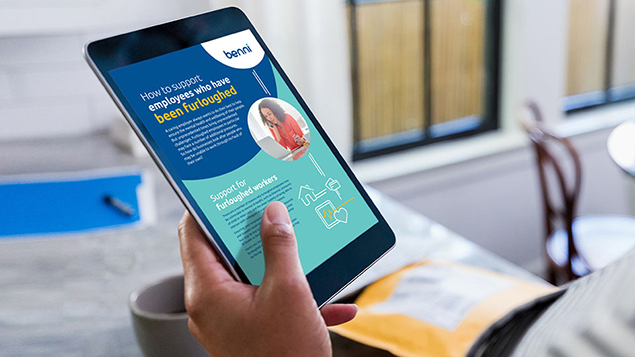 Furloughed employees face particular challenges.
Download our guide for help on how to support them.
A caring employer always wants to do their best to help ensure the mental health and wellbeing of their people. But unprecedented times bring unprecedented challenges.
Furloughed employees in particular may face a number of additional pressures. These may include financial, child or elder care, and a vulnerability to mental ill-health.
Ensuring your employees have access to vital resources and support could not only help their wellbeing now, but may be key in preventing any long-term mental ill-health in the future.
So how do businesses look after people who may be unable to work through no fault of their own?
Here's our guide on how you help to support furloughed employees.
Benni offers both access to a portfolio of employee benefits, and communication support to make sure you're getting the most out of your benefits.
Benni enables you to provide more employee benefits to more people – helping you to support, protect and motivate your employees.
For businesses with more than 50 employees, Benni is here to help.
Contact one of the Benni team: www.benni.co.uk/contact-us or call 0800 085 0518