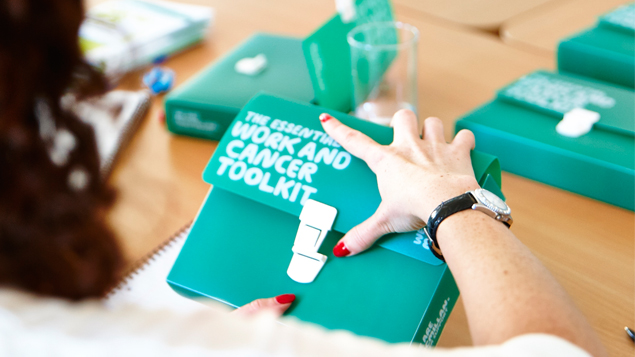 By 2020, nearly one in two people in the UK will get cancer in their lifetime. And with survival rates improving due to better care, this means that right now, or sometime soon, you will have to deal with cancer in the workplace.
This is why Macmillan at Work has developed training, guidance and resources to support HR and Line Managers with managing the impact of cancer at work.
For people with cancer, staying in or returning to work is important and can be very positive. There is strong evidence that good work can have a positive impact on both physical and mental health and wellbeing – and it can even help with recovery. Line managers play an essential part in supporting the employee on their return to work, and can make work adjustments for them and adapt their workload.
However, for many managers, one of the biggest concerns can be starting the initial conversations with the individual who has been diagnosed with cancer. What do you say? What don't you say? Despite these concerns, initiating conversations and keeping communication channels open are key steps in gaining an understanding of individual needs and support required in the work place.
In your initial conversation you may just need to listen and offer support, and it is important not to launch straight in with questions so that your employee isn't overwhelmed. However it is important to put a communication plan together as there are some practical elements which you will need to know. Some of these include;
Would the individual like you to share the information with the team, or would the like it kept confidential?
If they want the team to know how much information should be shared?
Would they like to deliver the information in person, or would they like someone else to? If so who
How do they want those people to find out e.g. Face to face, in a meeting etc
If they are off work, who do they want to communicate with moving forwards e.g. line manager, colleague, HR, union rep
What would they want to be kept up to date about?
How regularly do they want to be contacted?
Through asking these questions, you will be able to discuss arrangements for keeping in touch with your employee before their absence, and to maintain appropriate contact with your employee during periods of sick leave.
We know it can be challenging to have these conversations, which is why Macmillan has developed some useful tips on how to manage sensitive conversations;
Choose a private place to talk and make sure you won't be interrupted
Be prepared for the meeting to overrun – let your employee set the pace
Show you are listening – encourage conversation by nodding or with verbal cues like, 'I see' or 'what happened next?'
Show it's okay to be upset by allowing your employee time express their emotions, and recover if necessary, while remaining calm yourself
Communication is a very individual matter and you will need to consider your response in a given situation. Remember, everyone is different and what is appropriate for one person won't be helpful for someone else. Sometimes it can also be helpful for individuals to have more than one point of contact.
Someone other than their line manager can be seen as more neutral or easier to relate to about health where gender or age is an issue. This gives them the opportunity to talk confidentially about their situation and what impact it might have on their work.
To find out about the expert training, guidance and resources Macmillan provides, visit macmillan.org.uk/atwork. You can also email the team at workandcancer@macmillan.org.uk or call 020 7840 4725.