Taking place on 12-13 June at Olympia London, the CIPD Festival of Work is set to be the largest UK-based event serving the entire work-based community. It will bring together three shows under one roof for the first time, including two of the CIPD's most successful annual events – The Learning and Development Show and HR Software and Recruitment Show.
Over 7,000 people professionals, learning and development experts, technologists and business leaders will be brought together for two action-packed days of forward-thinking learning, networking and entertainment to explore, debate and celebrate the future world of work.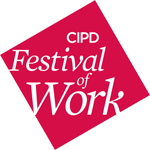 The future of work is human
The world of work is being revolutionised by technology and innovation. Artificial intelligence is now capable of learning autonomously and perform tasks that were once the sole dominion of humans. In the future, people won't be needed to perform the same tasks as today – the role of humans at work will inevitably and drastically change.
It is time to stop agonising about AI and robots taking over people's jobs. For every role that will be made redundant by machines, a new one will be created for humans to work more closely with technology. Human-machine integration now offers the opportunity to augment human potential and turn our grandest dreams into reality. Humans will still be central in the future of work!
Lead your organisation into the future
This future, however, comes with a fresh set of challenges for people and organisations. We need to be able to reskill ourselves and our employees to be able to step up and work alongside technology. We need to rethink how we lead organisations, manage people and how we embrace technology and innovation to increase business success while also creating a greater society for all.
These are the pillars of the CIPD Festival Work.
A transformational learning event
CIPD Chief Executive, Peter Cheese said: "New business models and ways of working are drastically changing organisations and what makes them successful. The CIPD Festival of Work will be the ultimate celebration of people in the workplace, focussing on what makes us unique and the vital components that will drive a future of work that is truly human. We will be bringing together pioneers of innovative business strategies, people management, technology and learning, and showcasing how they contribute to good work that is sustainable and adds value to businesses, individuals, the economy and society."
Featuring 160+ thought-leaders, practitioners and visionaries from across the globe, the conference programme has been specifically designed with 50+ thought-provoking sessions to help you tackle the key challenges organisations face in the future world of work. A conference pass gives you the full Festival experience – 160+ speakers, 50+ sessions, 6 content streams and 3 shows:
Future of Work
Stream 1 – Future of Leadership and Business Management
From delving into the workplace of the future to discussing new business models and customer expectations in the digital markets, this is for the most senior and strategic organisation leaders who are leading their businesses through innovation and technological disruption.
Stream 2 – Future of People Management and Organisation Development
From the importance of well-being and inclusion to the practicalities of organisational change and new organisation structures, this is for leaders, managers and people professionals who want to engage, motivate, reward and cherish the most important future asset within our businesses – the people within them.
HR Technology
Stream 3 – Future of HR Technology and Digital Working
From selecting and implementing new people management software and leveraging data analytics to discovering the implications of wearables and the internet of things at work, this is to support HR, technology and business system teams who want to make the most of new tech and take their organisations into the future.
Learning and Development
Stream 4 – Future of Learning Technology and Digital Learning
From leveraging artificial intelligence, data and mobile apps in learning to deep-diving into the applications of immersive learning, smart devices and tech-enabled learning cultures, this is for L&D professionals and learning enthusiasts who want to discover how to maximise learning design, delivery and outcomes through the latest tech.
Stream 5 – Future Talent, Skills and Capabilities
From reskilling employees, supporting managers and maximising leadership development to enhancing the effectiveness of our employer brand, recruitment and onboarding strategies, this is for L&D professionals, recruiters and hiring managers who want to develop and attract the talent our organisations need to succeed.
Stream 6 – Future Learning Strategy for Business Success
From enhancing your learning strategy, L&D brand and future-proofing your learning teams to adopting gamification, learner-centred design and insights from neuroscience, this is for L&D leaders who want to drive future business success, and L&D practitioners who want to take their learning design and delivery into the future.
Experience a first!
The exhibition at the CIPD Festival of Work will harness all the benefits of existing shows with inspiring new content and exhibitor zones: Learning and Development Zone, HR Technology Zone and the brand new Future of Work Zone. Over 300 leading suppliers will be on the festival floor bringing the future of work to life showcasing the latest innovations, case studies and solutions to help visitors future-proof their organisation. An exhibition pass is completely free – meaning visitors have access to the vibrant festival floor without spending a penny.
Why should you attend?
You've read plenty about the future of work – now see it brought to life with 7,000+ of your peers on 12-13 June at Olympia London. Let the CIPD Festival of Work fire your enthusiasm for the future, and leave inspired and informed to lead yourself, your people and organisation into the future of work.
The CIPD Festival of Work takes place on 12-13 June 2019 at Olympia London.
Book your conference pass today at festivalofwork.com/tickets.
For more information and to view the full programme, visit festivalofwork.com.