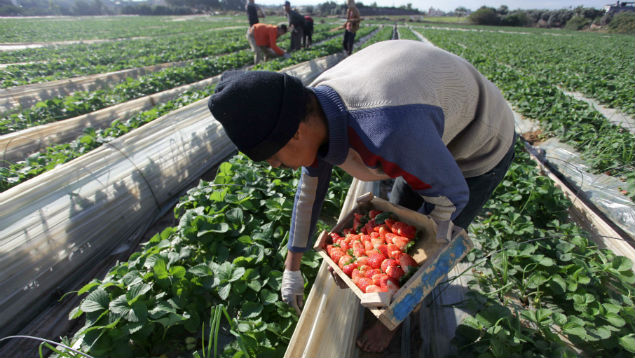 EU net migration has fallen to a level last seen in 2009, with more people from eastern and central Europe leaving the UK than arriving, new figures reveal.
Business reacted to the news by warning ministers to stop playing political football with immigration.
Other findings from the Office for National Statistics (ONS) quarterly figures, covering the year to September 2018, are that immigration to the UK for work has fallen to its lowest level since 2014.
However, the overall number of people arriving in the UK to study has increased, with non-EU student immigration at its highest level since 2011.
Jay Lindop, director of the Centre for International Migration at the ONS, said that immigration patterns had changed since the 2016 EU referendum and contrasted the high non-EU migration rates – now at their highest level since 2004 – with EU net migration, which while still adding to the population as a whole, had fallen to a level last seen in 10 years ago.
"We are also now seeing more EU8 citizens – those from Central and Eastern European countries, for example Poland – leaving the UK than arriving," he added.
About 261,000 more non-EU citizens came to the UK than left in the year ending September 2018, driven mostly by people coming to this country for study.
The number of EU citizens who came to the UK over the same period was at about 202,000, with overall about 57,000 more arriving than leaving.
For Jonathan Boys, labour market economist at the CIPD, the trends pointed to the need for government to engage with business concerns on its post-Brexit immigration planning.
He said: "Given the important role that EU citizens play in key sectors of the economy, the figures highlight the need for the post-Brexit immigration system for EU nationals to be as low cost and user-friendly as possible for employers and individuals.
"With the effect of skills shortages starting to bite, the government needs to be in full listening mode in its consultation with employers over the proposals in the immigration white paper."
Tej Parikh, senior economist at the Institute of Directors, said the importance of international workers was not being fully appreciated by the government: "Flexible and hassle-free access to international skillsets is part and parcel of having a globally competitive skills regime, so adjusting to the government's post-Brexit immigration agenda, with its new restrictions, will present some challenges.
"Larger organisations have looked to hire from further afield to compensate; despite the additional paper work, but this can be harder for many resource-constrained SMEs. Businesses will be hoping immigration policy moves beyond political footballing."
Jonathan Beech, managing director of law firm Migrate UK, said the ONS figures were evidence that the uncertainty caused by Brexit was having a significant impact on the rate at which talent is leaving the UK.
Businesses will be hoping immigration policy moves beyond political footballing" – Tej Parikh, Institute of Directors
However, he pinpointed one Commons measure as good news and highlighted any delay to Article 50 as good news for workers: "The MP's approval of an amendment from Conservative MP Alberto Costa calling for the protection of the rights of UK citizens in the EU and vice versa, is encouraging. But the further we delay Article 50 the less likely the Immigration White Paper will become law any time soon and the greater the chance of a stay of execution for EU nationals."
Beech said that Migrate UK had seen a six-fold increase in employees asking it for advice: "They're confused over whether to apply for a settled status now, or if they intend to naturalise to British, should they use the old immigration system? Every individual has their own route to follow dependent on what their intentions are, so greater commitment is needed from government on the immigration rules. One sticking point in particular is whether the post Brexit salary threshold for sponsored workers will be set at £30,000."
He said that many UK employers had come under a lot of pressure from investors to consider relocating outside the EU.
He advised that companies could take immediate action to retain European talent. Employers needed to identify gaps in their current and future workforce and highlight whether their workers had the means of remaining in the UK in the future, be this via a residence permit/card or settlement/permanent residency.
"EU workers could also consider applying for settled/pre-settled status under the new EU registration scheme before it goes live to all EU nationals on 29 March. Doing so will provide a greater sense of security to both employers and employees."
He added: "Employers with genuine skilled vacancies should consider applying for a sponsor licence so they have access to a wider pool of talent. Businesses must have the correct permitted documentation to sponsor EU workers once freedom of movement and any associated transitional period ends."