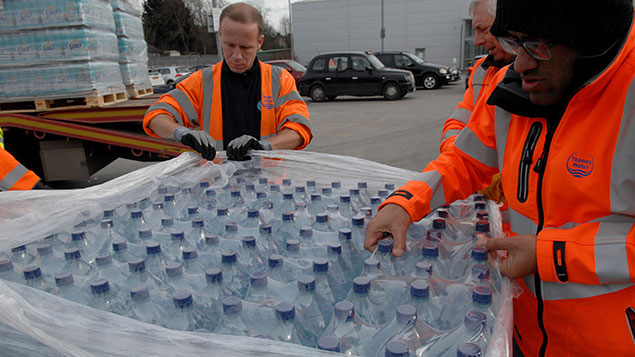 This year's Learning Technologies conference welcomed more than 8,000 delegates. Key topics for discussion included the importance of knowledge sharing and the challenges of uncertainty. Martin Couzins reports.
Katharine Ward, knowledge management manager at utility company Thames Water, likes to describe her team as being like a dating agency. "We help join the dots and make connections between people," she explains.
This theme of sharing and connecting resonated throughout the Learning Technologies 2019 conference, held in London's ExCeL last week. When asked by conference chair Donald Taylor what the one key thing L&D professionals should be doing in the year ahead, one of the stand-out responses was "Our job is to help people share".
Speaking to conference delegates, Ward explained the importance of sharing knowledge quickly and effectively – Thames Water has faced a number of unforeseen challenges in recent times, including a drought in 2018 and the cold onslaught of the Beast from the East.
Her L&D team facilitates connections and communities across the company both on and offline, using tools like Yammer and whiteboards, known as knowledge trees, to encourage colleagues to share what they need and to connect with one another. They also organise regular employee focus groups to find out what is and isn't working for them in terms of communication.
Knowledge management is also a key part of how the organisation manages talent. For example, it is currently trialing a 'rundown to retirement' initiative and as a part of that, the L&D team has designed a process to capture and share knowledge from colleagues, many of whom have worked at the company for 40 years or more.
Show your work
Identifying and sharing tacit knowledge – the insights people tend to hold in their heads – requires a shift in mindset, according to Jane Bozarth, director of research at The eLearning Guild and author of Show Your Work.
She urged conference delegates to "stop saving your work on to your C drive" and think about how sharing what you know might be of interest and value to the wider organisation. Why? Because it can help share knowledge across hierarchies and silos.
Bozarth referenced YouTube as a great example of sharing – people use it to share how to repair things all the time, from toilets to cars. On YouTube, people don't think twice about sharing their expertise in order to help others.
"We help join the dots and make connections between people" – Katharine Ward, Thames Water
But, this does not happen at work. "Think about the expertise that is worth sharing at work," she says. This could be things you had to overcome, your rationale for doing something or a reflection on what worked and why.
After adjusting your mindset, think about how you can do this in your workflow. How can you stop, take breath and look at how you do something? It doesn't have to be time consuming. Make time to reflect, take a photo, capture it well.
Investment in technology
Research shared at the conference suggests that organisations are investing in technologies to enable more social and collaborative ways of working.
Research of more than 800 L&D professionals carried out by learning analysts Fosway Group shows that social and collaborative learning is the second largest growth area for learning platforms after analytics.
And for learning content, user-generated content is the third biggest growth area behind video and blended learning.
However, the data also shows that L&D professionals are not happy with their current social or collaborative learning systems, with less than 20% of respondents rating them as good or very good.
This reflects a broader dissatisfaction with learning technologies. Asked whether their current learning platforms are fit for the modern workforce, 50% of respondents said no.
Overwhelmed and under-equipped
Data from further research unveiled at the conference suggests that there are other challenges around enabling more sharing and collaboration in learning. A big factor is the skills of the L&D team.
Research from learning analysts Towards Maturity shows that facilitating collaboration is a priority skill for the future for 95% of learning leaders but only 23% have those skills in place.
The research also reveals that L&D professionals' number one concern is that they feel overwhelmed and under equipped to deliver. L&D teams need to shift from being producers to enablers if they are to support organisational change, the authors suggest.
In order to succeed, Towards Maturity says L&D teams will need to address three key areas: digital disruption, cultural resistance and L&D capability. These are three big challenges facing L&D currently and they aren't going to go away.
But perhaps the biggest challenge of all facing the L&D community, according to Laura Overton, founder and CEO of Towards Maturity, is the level of uncertainty. "The focus [of our report] this year is the fact that our community is working in uncertainty and it's going to continue to be uncertainty."
That's why Overton says it's critical L&D looks at its data to establish current and future needs and how to address them.
For all the buzz around learning technologies, social and collaborative learning and using data, there was a clear message from the conference for all L&D practitioners: the importance of developing learning interventions in an iterative way that includes the end user – the employee.
That's not always easy, but it can be achieved. L&D has to know what it is doing and why and go for it. As Ward from Thames Water says, "We all need courage and tenacity."