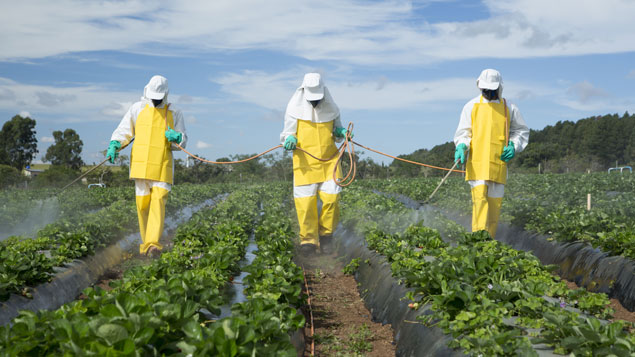 Research into pesticide exposure among horticultural workers has shown that levels of contamination can take place despite the provision of protective equipment.
A study conducted by NUI Galway in Ireland, the Institute of Occupational Medicine (IOM) and the Health and Safety Executive found workers were exposed to low levels of glyphosate despite wearing protective equipment. Glyphosate is a herbicide used to control the growth of weeds and invasive plant species such as Japanese knotweed.
The four-year study, the results of which have been published in the International Journal of Hygiene and Environmental Health, analysed 200 urine samples and 350 wipes from gloves worn by horticultural workers. The highest measured glyphosate concentration was equivalent to less than 1% of the Acceptable Operator Exposure Level set by the European Food Safety Authority, suggesting that using the chemical posed little risk to human health if protective equipment was used.
In 2015 the International Agency for Research on Cancer determined that glyphosate is "probably carcinogenic to humans" although little research has been done in this area. The European Food Safety Authority does not recognise it as a dangerous substance.
The IOM and NUI Galway said the study highlighted the importance of using personal protective equipment when applying pesticides and disposing of, or thoroughly cleaning equipment after use.
They said workers must also be wary of how they put on and remove protective equipment to avoid contamination to their clothing, mobile phones or vehicle steering wheels.
Workers' hands were the most commonly exposed area, accounting for more than 40% of glyphosate exposure cases.
Workers who took breaks while applying pesticides had higher concentrations of glyphosate in their urine, most likely due to contamination on their protective equipment or clothing.
The substance was also found on face wipes, which the researchers suggested was due to workers' adjusting their face masks or answering their mobile phones while working.
Researcher Dr Marie Coggins at the School of Physics in NUI Galway said: "Occupational biomonitoring data across Europe on chemicals such as pesticides is scarce. In this study detectable levels of pesticides in urine were low, however, further studies such as this one are required to fully characterise chemical exposures in humans to support risk assessment and to inform policy."