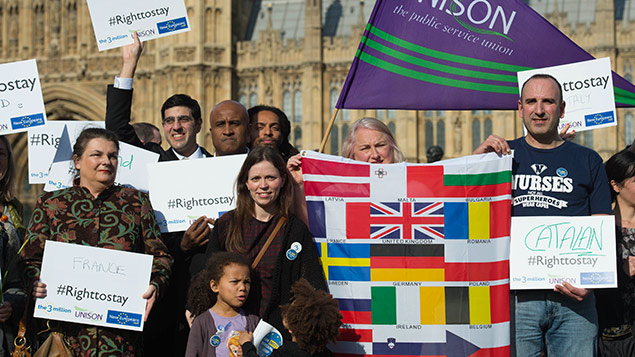 Millions of EU citizens can now apply for "settled status" in the UK as the government launched the final phase of testing for its post-Brexit registration system and scrapped the proposed £65 fee.
The scheme will open fully by 30 March 2019, and the deadline for applying for settled status will be 30 June 2021, or 31 December 2020 if the UK leaves the EU without a deal.
Those who have not yet been resident in the UK for five years are eligible to apply for "pre-settled status", which they can then change to settled status once five years' continuous residence has been completed.
Prime Minister Theresa May today announced that a £65 fee for EU citizens applying for settled status would be scrapped. The government has launched a smartphone app (currently only available on Android) where users can upload documents, answer questions and submit photographs. It has also recruited 1,500 new caseworkers to help deal with applications.
However, think tank British Future has warned that around a third of the 3.5 million EU nationals currently living in the UK could struggle to file the application.
It also claims that even if 5% of eligible applicants struggle to apply or are rejected, this would equate to 175,000 people living in the UK without status. Groups such as the elderly or those with limited English or IT skills would be most affected, it said.
Karendeep Kaur, senior immigration consultant at immigration law firm Migrate UK, urged employers to consider supporting workers with their applications, but also sounded some words of caution:
"The most important thing to note is that this will not backdate settled status as per the current EEA permanent residence rules," she said.
"The benefit of this scheme is that it allows employers and HR professionals to apply early with their workers and spread a sense of security throughout their organisation that they are making steps towards securing a future for them and their family members.
"However, this comes with a number of obstacles. Firstly, each applicant must hold a valid passport, and with many EU nationals relying solely on their National ID cards, this would restrict them in applying.
"Secondly, to start the application process, the migrant must download the Home Office app from Google Play Store or find a location (there are 13 locations) where an Android phone can be used.
"Lastly, with there being a huge number of applicants looking to apply, as stated in previous months, it is more than likely that the system will fall over when attempting to process the millions of applications which will undoubtedly be flooding in.
"However, this is one of the aims of the public test phase – to combat any issues with the system prior to the nationwide launch in March 2019."
Before the scrapping of the £65 fee, a number of employers had committed to paying for the EU employees to acquire settled status.
Heathrow Airport agreed to cover the cost last month, with CEO John Holland Kaye saying: "Many of our people are worried about Brexit and this move will provide reassurance and clarity."
A number of NHS trusts have also said they will support EU employees financially with the process.
Laura Darnley, employment solicitor at HRC Law said: "Every business with EU national employees will need to assess exactly what this means for their business. While responsibility remains with the individuals, there are very clear risks to businesses which can be addressed through a proactive approach."
She added that the system was "fraught with difficulty" so good communication was key. "It is therefore in businesses' interests to ensure all employees are aware of the scheme and what action needs to be taken or risk the possibility of having to deal with illegal workers and recruitment further down the line.
"If a business wishes to retain its talent, now is the time to support employees through the process. We've started to see businesses spearhead the movement with the likes of Carluccio's offering to pay the application fee for its employees.
"However, while support such as this is positive, businesses must be cautious to avoid 'advising' their staff as this may be unlawful and ensure that however they offer help, the policy is rolled out consistently across all EU staff to avoid any potential discrimination risks."
This article was updated following the government announcement on 21 January to scrap the £65 fee for settled status.