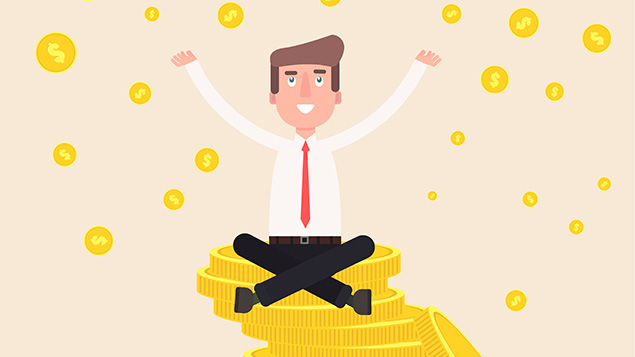 More than half of all staff in managerial and professional roles received a bonus last year, according to XpertHR analysis.
Its Managers and Professionals Salary Survey for 2018-19 found that the average bonus payment across a sample of more than 250,000 employees was £2,491. This would be worth 8.4% of the average £29,679 basic salary.
That said, almost two-thirds (63.7%) of payments were worth less than £1,000, while more than a quarter (26.8%) were for between £1,000 and £4,999. Only 1% of bonuses exceeded £25,000.
XpertHR analysed 12 job levels, rising from entry level to chief executive. Perhaps surprisingly, the group most likely to receive a bonus – albeit a small one – is entry level. Here the average payment was £825, the lowest of all job levels.
The highest average bonus (£12,159) was paid to sales and marketing professionals. Private sector companies were most likely to award a bonus (74.3%), followed by manufacturing and production (52.7%). Just under a fifth of employees in charity/not-for-profit organisations received a bonus, and just 6.2% in the public sector.  
There was a small disparity in gender, with more men (58.2%) receiving bonuses than women (52.8%). Age was also a factor – the youngest employees in the sample (age 18 to 20) were most likely to have received a bonus.
Reward, compensation and benefits opportunities

Browse all comp and benefits jobs
Employees working for larger organisations were most likely to receive a bonus. Fifty-eight per cent of people in organisations with more than 1,000 people received a bonus, compared to 27.2% in those with 249 or fewer.
Most bonuses (94.2%) were paid out based on organisation performance. Just over three-quarters (78%) paid out based on a mix of organisational and individual performance, according to XpertHR. Most employees who received a bonus in 2018 also received one the year before.
The analysis also revealed that:
the job function most likely to receive a bonus was retail (83.5%);
just over a third (37.2%) of HR professionals in the sample received a bonus;
bonuses were lowest in the public education sector, at an average of £877;
the highest average bonuses were found in the paper and printing industry (£8,178); and
almost nine in 10 employees in engineering and metals received a bonus.
Sheila Attwood, managing editor for XpertHR's pay and HR practice said: "Bonuses continue to be a popular reward tool, enabling organisations to compensate employees for the effort they have put in and to encourage them to go the extra mile in the future. Payments are low for most employees, but can still provide a considerable boost to their basic salary."