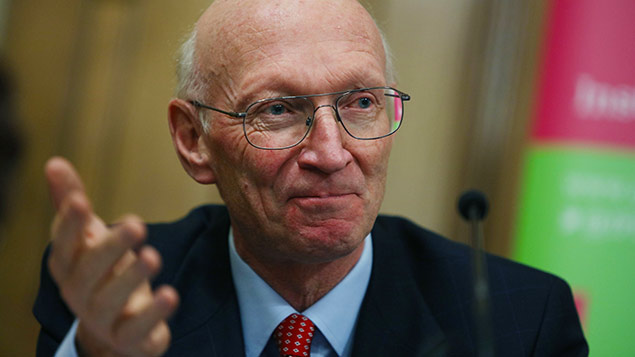 In a stinging attack on 25 years of healthcare policy, Lord David Prior, chairman of NHS England, has described the inherent dysfunctionality of the NHS, saying that it needs to "recapture its vocational engaged spirit".
Do you know any other big organisation in the world… that hives off its people and HR strategy into a different organisation?" – Lord Prior of Brampton
He applauded the fantastic, noble culture of the health service but blamed targets, competition, foundation trusts and regulation for creating a fragmented NHS, for which it was "almost impossible" to create a joined-up, integrated strategy.
Speaking at a panel discussion on the NHS's 10-year plan organised by the think tank Reform, Lord Prior launched a blistering attack on the UK's largest employer. He described the culture in the NHS as "disempowered" and one of "learned helplessness".
"Do you know any other big organisation in the world that hives off its digital strategy into a separate organisation, that hives off its people and HR strategy into a different organisation, and splits its purchasing function from its sales function?" he asked.
"Because that's where the NHS has been. You could not have designed something that has inherently, at its heart, more dysfunctionality."
He thought it was "very remarkable" that the NHS had been able to create a 10-year plan, when "at its heart, it has been so deeply, deeply fragmented. We wake up one morning and find that there's 40,000 fewer nurses than we need – and it's sort of done over here somewhere".
He criticised the "target-driven culture that has driven the NHS" saying that the pressure to hit targets is something he had never encountered in the private sector, adding that "gaming" and "bad behaviours" had developed around these targets.
Lord Prior, who was appointed chairman in the autumn and is a former health minister, illustrated his point by describing A&E staff running around like "headless chickens" as the clock approached the four-hour waiting time target. His comments came as performance figures showed that just 84% of patient are seen within four hours, the lowest proportion since 2004.
"Targets have had their day I think… the way they're being used and they have encouraged this top-down, hierarchical control in the NHS which has been I think very damaging for the culture, very bad for getting – particularly – clinicians involved and engaged in improvement."
He said that as targets became less successful, healthcare policy reached for competition, believing that it could drive long-term sustainable improvement in the NHS. "Competition has failed, almost totally, [because] actually there isn't a market, there's no real market," said Lord Prior.
On the Care Quality Commission, he said: "Do we really believe that regulation is really going to drive quality? I mean it might stop a Mid-Staffs. It might stop a Winterbourne View. It might stop a Morecambe Bay. It might catch those things earlier. But is it really going to inspire clinicians to do better? I am not sure that it does."
Lord Prior said it was disappointing that we've taken this "fantastic, noble culture of the NHS –  to which I think we are all committed, it is a wonderful sense of purpose… I am proud to be part of the NHS and I think many people join the NHS … because they feel a sense of self-esteem, self worth that they're doing something useful."
He added: "Yet if you look at the behaviours within in the NHS, the lack of working together, the lack of teamwork, the sort of distance that's developed between primary care and secondary care… These sort of distinctions between mental health and physical health … and commissioners and providers, have riven the NHS over the last 25 years."
He discussed how junior doctors used to "lend a hand" if needed in A&E but would now go home; how GPs who would have continued to work would now "just leave" when their pension pay-out hits its maximum; and how nurses now said "actually I'm 60, I'm going", when previously they might have worked for another couple of years.
"If we can somehow recapture that kind of engaged spirit, that vocational engaged spirit, then I think so many of our other issues, those to do with targets and performance things, would be taken care of."
Prior concluded: "I see a central theme of the 10-year plan is putting this back together again and recreating a different culture within the NHS where people actually work together rather than sort of against each other."
Some NHS staff reacted angrily on Twitter. Rachel Clarke, a palliative care doctor from Oxford, questioned why the Lord Prior had not questioned funding and staffing levels.
Appalling comments from the @NHSEngland chair in today's Times. He attacks NHS staff, 'chaos' & 'dysfunction' with no mention of crippling, endemic underfunding & understaffing. The goodwill runs out, Lord Prior, when staff are first abused, then broken, by impossible workloads. pic.twitter.com/DF3lxL2lLK

— Rachel Clarke (@doctor_oxford) February 15, 2019
Ben White, a hospital doctor at UCL, said Lord Prior "knew nothing about the NHS".
Dinosaur Lord Prior delivers halcyon tales to 'reformer' bubble.

Vocation, really? 'Engagement'?!

Where exactly were you when the govt tried to destroy junior drs? When did you last work in an overcrowded A&E or medical unit?

You know nothing about the NHS. pic.twitter.com/Y34GZWYDUI

— Dr Ben White (@drbenwhite) February 15, 2019