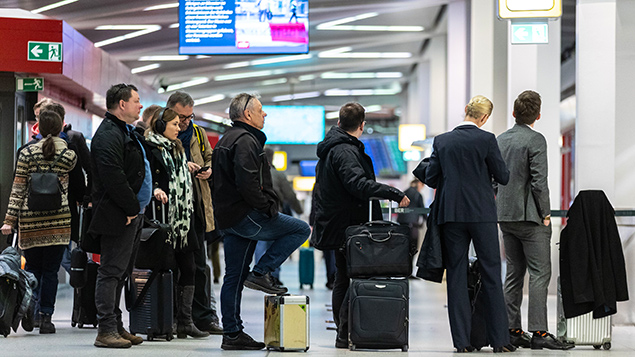 The UK will leave the EU at 11pm on 29 March 2019 unless Parliament approves the withdrawal agreement or the Brexit process is delayed. Businesses whose staff travel to, or temporarily live in the EU, must now make their own no-deal preparations. Dr Sybille Steiner examines what they need to do to avoid difficulties travelling to Europe after Brexit.
1. Passports under a no-deal Brexit
British passports will continue to be valid until their expiry date, but if the UK leaves the EU without a deal, British passport holders will be treated as third-party nationals by the 26 countries in the Schengen area and will be subject to the Schengen borders code. This provides that passports must:
Have been issued within the past 10 years; and

Have at least six months' validity remaining on the intended date of departure from

the

UK

to countries in the

Schengen area

.
Business travellers, whose passports are due to expire within six months of 29 March 2019, need to renew their passports now to avoid being denied entry to the Schengen area countries.
UK passport holders will not be able to use the "fast track" queues for EU and EEA citizens either and may have to factor in extra time standing in queues before they can continue their journey.
2. Driving and insurance
Currently UK drivers can drive in the EU without difficulty. All they need is a valid UK driving licence, appropriate car insurance and any relevant equipment, such as warning triangles, reflective jackets and first aid kit etc.
If we leave without a deal, drivers taking their own car or renting abroad are likely to need an International Driving Permit (IDP) and may need more than one if they travel to different EU countries. The UK issues three types of IDP to UK licence holders resident here: the 1926 IDP, the 1949 IDP and the 1968 IDP.
From 28 March 2019, some countries will stop recognising the 1926 and 1949 IDPs and drivers may need a 1968 IDP to drive. This applies to most EU countries including Belgium, France, Germany and Portugal. However, drivers travelling to Spain, Cyprus, Iceland or Malta will need a 1949 IDP. More information is available here. Ireland has said that UK drivers will not need an IDP.
IDPs are time limited. They can be obtained over the counter from post offices and cost £5.50.
With regard to insurance, in the event of a no deal, drivers of UK-registered vehicles will need to get a Green Card from their insurer to prove they have insurance cover when driving abroad (unless the European Commission waives this).
If they have an accident, they are likely to have to bring a claim against the driver or their insurer in the country where the accident happened. This may involve bringing the claim in the local language.
3. No-deal mobile phone roaming charges
Under EU law, all citizens have the right to surcharge-free roaming. This means that UK residents travelling in the EU don't have to pay more for making calls, sending texts or using data than they are charged in the UK.
Furthermore, mobile operators have to apply a default financial limit for mobile data usage of €50 and notify travellers once their device reaches 80% and then 100% of the agreed data roaming limit.
If we leave without a deal, these protections will no longer apply and mobile operators can increase their roaming charges. According to the government, 3, EE, O2 and Vodafone have said they have no current plans to do so, but business travellers should check with their mobile operators before travelling.
4. Health insurance in a no-deal Brexit scenario
Currently, UK travellers to the EU have the right to receive public healthcare free or at reduced cost in any EU country. They need to carry the European Health Insurance Card (EHIC) which is available free of charge and covers pre-existing medical conditions as well as emergency care.
This means that individuals with chronic conditions, for example those who require daily dialysis, can travel knowing they will receive treatment on the same terms as the citizens of the country they are visiting.
The EHIC card may not be valid if we leave without a deal and the government has advised travellers to check what arrangements are in place in the country they are visiting. The government says it is "seeking arrangements" with countries on healthcare arrangements for UK nationals after 29 March, but no agreements have been reached yet.
Business visitors should take out separate travel insurance. Those with long-term health conditions should expect significant price rises.
5. Visas if we leave the EU without a deal
Currently, UK travellers don't need a visa to travel to the EU and can move freely between EU countries with a valid passport.
After 29 March 2019, under reciprocal arrangements, UK citizens going to the Schengen area for a short stay (90 days in any 180 days) can travel without a visa.
However, this may change. From 2021, British passport holders wanting to work or stay in the EU for longer than three months are likely to have to apply in advance (and pay a fee) for the European Travel and Authorisation System.
British passport holders will have to fill out an online application and supply personal biometric data – for example name, gender, data of birth – passport or travel document information, EU member state of entry, background questions on an applicant's health, criminal record as well as previous EU immigration history.
This information will be compared with a host of security databases before a decision is reached (although usually a decision will be made in minutes). This type of visa is similar to the American ESTA scheme, which aims to identify anyone thought to pose a security or other risk.