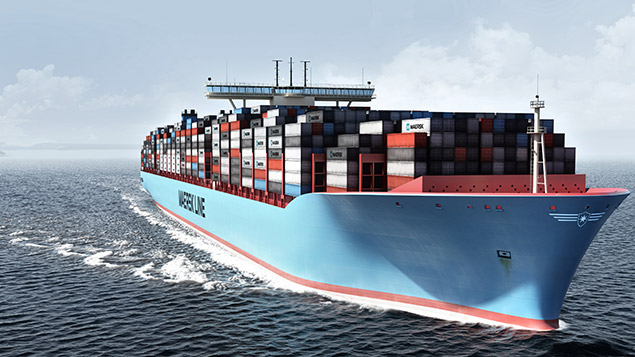 Information about employees, positions and organisation units – HR departments see the convergence of enormous data volumes, which need to be brought into an organisational structure and which form the basis of personnel controlling procedures. As is the case in Maersk, the Danish business conglomerate.
A clear organisational structure supports HR representatives, managers and employees in their day-to-day work. Maersk uses Ingentis org.manager to visualize personnel and organisational information on over 60,000 employees in 130 countries in an organisation chart. The software product was brought to the attention of the company by an SAP implementation partner.
Ingentis org.manager enables managers and HR consultants to browse the organisation structure and access relevant key data at the same time. The organisation structure is visualized by an organisation chart. The organisation chart contains information on organisation units, positions and employees. In employee lists, which can be displayed below the organisation chart, users are offered further detailed information; including location, email address and job ID of the employees. Photos of the individual managers can also be added to the organisation chart via an automated process.
Moreover, employees can be located in the organisation chart quickly using the search function, via their name or job ID for example. And the function designation can be used to search for a group of employees. The hit list can be exported and processed as an Excel document.
A clear organisation structure creates, in turn, transparency within the company. Another benefit is the time saving, since personnel information can be quickly located and printed. This is also reflected in the user numbers. At Maersk alone, Ingentis org.manager is accessed more than 10,000 times per month.
Personnel controlling
A modern personnel controlling system relies on the established organisation and personnel structure to be able to show standardized identification numbers in a clearly organized form for each organisation unit. The personnel identification numbers are prepared and packed into reports via an automated process.
In Ingentis org.manager, personnel reports are automatically generated via calculations, rules, filters and merging. This allows the average age in individual departments, for example, to be calculated and shown prepared in the organisation chart. Rules can be applied to highlight certain fields in the organisation chart in color. For example, all departments with vacant positions can be highlighted in red.
These values stand out in the general overview because the zoom function condenses all report levels onto one page. Filters in the administration program can be used to hide certain master records, such as all employees who are on special leave. The merging function allows even data from different sources such as Excel, which are not recorded in the linked personnel system, to be included in the graphic display.
Maersk uses a Data Quality Index view to visualize the share of clean data based on a number of data quality definitions. The index indicates what percentage of employee master data, based on predefined rules, is correct. The Data Quality Index is measured for categories such as personnel data, position information, or timeliness of updates. The quality index for organisational units is visualized via color coding (green, yellow, red).
Talented employees
In the context of personnel controlling with Ingentis org.manager talented employees can be displayed in the organisation chart. For an active and formative HR management the following questions should be answered: Which employees have the greatest development potential? Which employees possess particular expertise and contribute significantly to the success of the company? High-performers who are capable of development need to be identified, and an overview of the personnel and organisation structure needs to be retained. Frequently, the data is available to achieve this, but there is no way to display the data in a structured manner since the data is (for example) captured by different systems.
One way of combining this information is the potential performance grid in Ingentis org.manager. This grid can be directly visualized in the organisation chart. The matrix displays performance as well as the development potential of individual employees. Furthermore, additional employee and performance details such as absences, utilized vacation time and overtime can be shown.
But how high is the risk of loosing these important employees? Is there a danger of them leaving the company? One option is to depict with Ingentis org.manager the fluctuation risk in the organisation chart by using color to highlight employees or positions with a high risk potential. At the same time, successor planning is initiated to find a timely replacement for employees who are likely to leave. Appropriate successors can be directly displayed in the organisation chart to help with successor planning. It is also recommendable to display the availability of appropriate successors.
Interface to the SAP system
Ingentis org.manager can be directly linked to all leading personnel management systems, such as SAP®, PeopleSoft®, Oracle®, P&I, to databases such as Oracle®, Microsoft SQL Server®, IBM DB/2®, to directory services such as LDAP/Active Directory or to flat files such as Excel or CSV. At Maersk data is uploaded to org.converter via a direct interface to SAP. org.converter processes this data and delivers it to org.manager. Users do not need to install any software on their PC, since the data is provisioned via the network and so a web link is all that's required to access the charts.
Display options
The data from Ingentis org.manager can be displayed in a number of ways. One display variant is org.manager [win], which is compatible with all Windows platforms. org.manager [html], on the other hand, is platform-independent – the HTML version can be displayed in any Internet browser. org.manager [server] uses the cutting edge technology HTML5.
Maersk decided on org.manager [server], which creates HTML pages in realtime. The company is now also considering to make its organisation charts accessible via tablet devices.
HR information on the iPad
With org.manager [mobile] organisation charts and personnel reports are available on Apple iPad. The required information can be retrieved quickly and easily with the app. In addition to organisational units, employees and positions, the app can also display details on individual employees such as their telephone number, e-mail address and department.
Information can be quickly and easily retrieved using the search function. This means that users always have a complete telephone book and employee directory at their fingertips. Touch an item in the search hit list to display the individual in the organisational chart. In personnel reports it is also possible to graphically portray data in diagrams such as gender distribution or vacant positions. Touch the position box to get an employee's average absences or vacation time taken.