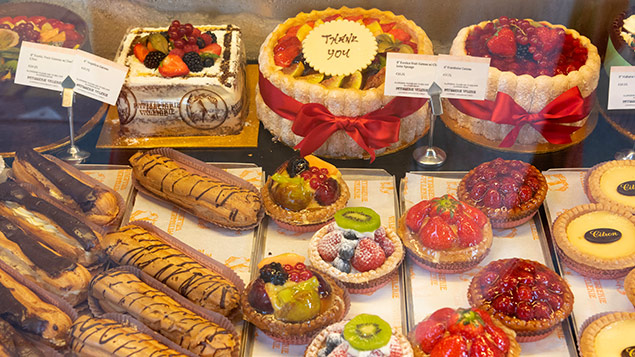 Around 900 staff are expected to be made redundant at Patisserie Valerie, as a rescue deal failed to save the cake and coffee chain from going into administration.
Administrators KPMG are expected to keep 121 outlets trading while they attempt to find a buyer, but 70 Patisserie Valerie cafés will close immediately.
A total of 3,000 jobs are at risk at the company, which was plunged into trouble in October 2018 when a £40 million shortfall was found in its accounts. A statement to the stock market yesterday said the company's failure was a "direct result of the significant fraud referred to in previous announcements" and that it had been unable to renew its banking facilities.
The option of employees being given the opportunity to buy out the company has never been on the cards" – Rebecca Long Bailey, Labour
The chain's owner Patisserie Holdings also runs Druckers Vienna Patisserie, Philpotts, Baker & Spice and Flour Power City.
Luke Johnson, chairman of Patisserie Holdings, has personally extended an unsecured, interest-free loan of £3 million to help ensure January wages are paid to all staff working in the ongoing business. These funds will also assist the administrators in trading as many profitable stores as possible while a sale process is undertaken.
Johnson, who was behind Pizza Express's expansion, grew Patisserie Valerie from eight stores in 2006 to more than 200 stores.
Rebecca Long Bailey, shadow business secretary, said: "News that Patisserie Valerie has collapsed into insolvency as a result of fraud will worry workers and their families.
"That such a successful business can be pushed into administration by the alleged malpractice of one boardroom member should raise questions within government about the full range of options available to companies with similar problems.
Redundancy resources
"The option of employees being given the opportunity to buy out the company has never been on the cards. Labour is looking at possible changes to the law and the financing necessary to support employees considering the option of taking over companies when faced with similar situations."
Patisserie Valerie's demise follows the collapse of entertainment retailer HMV and comes amid a warning this week that some 175,000 jobs could be shed on the high street as an estimated 23,000 shops are forecast to close their doors in 2019.
Property analyst Altus Group's annual commercial real estate research found that 62% of major UK property owners and investors claim that online competition has disrupted the retail property market.
Altus Group managing director Guillaume Fiastre said: "Retail of the future will use bricks-and-mortar spaces in a very different way mixed in with leisure and lifestyle residential spaces, for example.
"The most successful retailers – the survivors – are learning to draw in their customers with the promise of a personalised experience. Technology makes that all possible, but it still needs a strong human element."