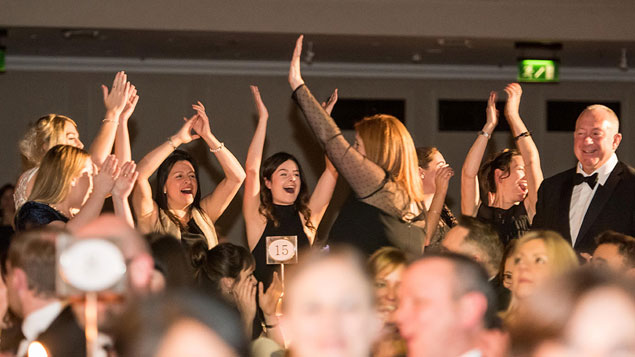 Is your HR team at the heart of your organisation? Are you getting the recognition you deserve? Your opportunity to be part of the HR profession's celebration of excellence has arrived, as the Personnel Today Awards 2017 opens for entries.
From today, organisations can submit their entries at any time until the deadline of 9 June 2017. Make the shortlist, and you could join the 1,000 guests anticipated at this year's prestigious event.
The Personnel Today Awards recognise HR and L&D teams, individuals and suppliers that have made an impact with their people policies and have delivered tangible benefits to their organisation.
If you and your HR colleagues have led an innovative project, driven down costs, been courageous in implementing change or achieved great results in the past 18 months, then you could be a winner of one of our coveted awards, which are presented at a glittering ceremony at London's Grosvenor House Hotel on Park Lane on 21 November 2017.
Personnel Today editor Rob Moss said: "We've seen increasingly innovative and disruptive interventions over the past few years and I'm sure we will see that continue in 2017.
"The categories evolve every year, and this year we're changing a few. Our HR Newcomer and HR Business Partner categories make way for the Emerging HR Leader of the Year.
"We're creating a new award for the best L&D Team and we're introducing a new category to recognise excellence in Employment Law Firms."
The Emerging HR Leader of the Year will recognise talented HR professionals who consistently demonstrate great potential to go far in their career.
These individuals will be agile and adaptable, ready to innovate as the HR profession moulds itself to the changing world of work. Entrants for this new category can enter themselves or be nominated by colleagues, but must be below HR director level.
L&D Team of the Year will celebrate the positive impact learning teams can have on their organisation, and how they have supported that organisation to reach its objectives.
Employment Law Firm of the Year recognises the important work employment law teams do for their HR clients, whether that is in providing proactive advice in managing employees, or handling live disputes.
The 2017 Awards welcome back sponsors including Totaljobs, Vana HR Resourcing, Great to Place to Work and A&DC. New sponsors include Cezanne HR, the Royal College of Nursing and Milkround. For further sponsorship opportunities please register your interest here.
Personnel Today continues to run its award for HR supplier partnerships, which aims to honour the input of suppliers to the profession. This award is only open to entry from suppliers nominated by entrants to the other categories in the Personnel Today Awards. Previous winners have included a coaching consultancy and an engagement specialist.
Full details of all of the awards categories are available on the categories page
Last year, brewing company SABMIller won the coveted overall award, having beaten competition from entrants in 20 categories, including teams and individuals from more than 100 shortlisted organisations.
Each category is independently judged by well-respected industry figures. Judging begins after the entry deadline and category shortlists are announced in July.
All finalists are invited to attend the Shortlist Drinks Party in September, as well as the dazzling awards dinner on 21 November 2017. Previous guest hosts have included Gaby Roslin, Claudia Winkleman, Hugh Dennis, Jack Dee and Rob Brydon.