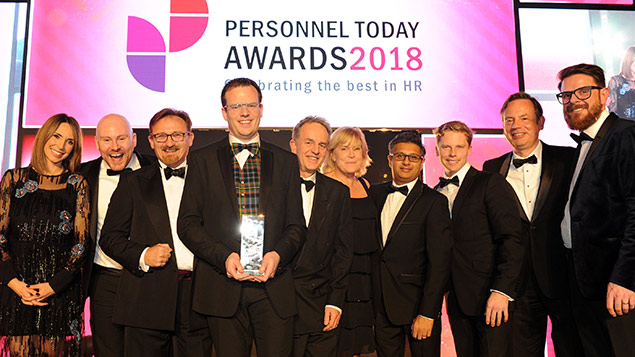 The HR Impact Award, sponsored by XpertHR, went to CBRE Global Workplace Solutions at the Personnel Today Awards 2018 this evening, for its trouble-free transfer of staff from Carillion when it feel into administration earlier this year. The category recognises an HR professional or team that has implemented an innovative and determined solution in the face of business need. Speed of reaction, innovative thinking, and clear communication are all facets that the judges valued highly.
WINNER
CBRE GWS Local Facilities Management
This operating division of CBRE Global Workplace Solutions employs 5,400 people across the UK. Earlier this year it won a tender to take on the 450 Carillion staff working on the Centrica account left marooned after the firm failed. Its brief was to ensure all employees were engaged, treated with care and successfully transitioned across to new employment. The contract was awarded on 25 January with a go-live date of 1 February.
The challenge was significant: to mobilise a UK-wide contract with 450 staff to transfer within a short time. It had to avoid disengaging and demoralising the workforce while maintaining a seamless service delivery to Centrica. CBRE quickly agreed with Centrica that it would treat this as a TUPE environment although TUPE did not apply, ensuring the entire workforce associated with the account were instantly provided with peace of mind and financial security.
A multi-stage plan was rapidly adopted, a team assembled, and employees engaged within three working days. It resulted in Centrica experiencing no lowering of service standards. Constant communication with every employee and stakeholder was vital to the success of the project. CBRE's diligent and focused leadership saw the entire workforce transitioned effectively on day one. Payroll was met on 24 February with every employee being paid correctly.
---
RUNNERS-UP
Balfour Beatty
In 2015, following several profit warnings and attempts to take over the business by competitors, Balfour Beatty recognised the need for change and launched its Build to Last transformation programme to stop the business declining further and rebuild for long-term, sustainable success.
The UK HR vision and three-year strategy was developed and placed at the centre of the transformation programme to support four strategic goals: Lean, Expert, Trusted and Safe. The HR strategy identified a plan to first stabilise, then develop and finally get the function performing at a level that could lead the business transformation.
Judges
Martin Tiplady, Chameleon People Solutions
Cheryl Bosi, Lloyds Banking Group
Bruce Warman, Centre for Economic and Business Research
Part of the strategy was recognition of how Emotional Intelligence (EI) could help transform the business. This was unusual for a construction business but EI diagnostics and coaching was provided to senior leaders under the Leading for Success programme.
The company also significantly increased its investment on training and competency frameworks. A new HR model was developed with business input resulting in a leaner structure with increased capability. A major Future Leaders programme is among the changes producing improved talent reservoirs.
The organisation as a result is leaner, has returned to profit and has gained a much improved reputation in the market.
---
Beyond
This design and technology ideas company appointed Kate Rand as people and operations director about 20 months ago to solidify the recruitment process and address the gender diversity challenge faced, as many tech centric organisations do. The organisation had experienced some failures with HR initiatives across its studios so there was credibility to be demonstrated in the value of HR as a strategic partner. There was also a requirement to delivery on some of the commitments Beyond had made to its employees. At the time there was no HR presence across the organisation.
Kate addressed the need to join up the People teams across the studios to deliver an innovatively devised Global People Strategy. Using her own research in to agile methodologies and applying them to the operational governance of Beyond, she delivered a global roadmap that serviced the entire organisation, led by the team. She has most recently worked with the Global Leadership team on organisational design.
Among her other initiatives, Kate introduced the concept of Total Reward to Beyond, transforming the organisation's commitments to employees regarding career paths, development and progression. More flexible working is now being supported at Beyond and staff benefits have improved. Kate has also achieved a 16% increase in female representation in a previously 100% male department.
---
CPP Group
Global financial assistance product provider CPP Group experienced a damning and public regulatory intervention that saw it pushed into decline. It has now turned that round and is in a phase of significant growth.
Its turnaround has come through the adoption of a fast-paced commercial and cultural transformation roadmap focused on growth aligned to 2020 ambitions of £350m revenue, £30m profit and 20 million customers. CPP recognised the need for an innovative people-focused intervention and how it had to restore belief and confidence in its employees. An 'Accelerant' scheme was devised with consultant Coaching Impact. It enabled the firm to create 'viral change agents' across 10 global markets inviting them to work in high performing teams at an intensive three-day boot camp. One result has seen an IT project delivered 12 weeks early, with the savings resulting paying for that whole year's Accelerant programme.
Now in its third year, the innovative elements of the programme has enabled it to flourish, especially relating to flexibility and speed of reaction. Initially unleashed as an experiment, through repeating the practices of 'Rapid Review' and 'Act and Learn' CPP has been able to build on what is useful and make improvements to make the programme even more impactful and sustainable.
---
L&Q
On 5 April 2016, L&Q and East Thames announced their intention to merge – bringing together two fully functioning housing associations with their own structures, capacity, processes and systems. This merger has enabled L&Q to maximise the provision of affordable housing, focus on people with low incomes and support the vulnerable. The merged organisation is influential, financially strong and sector leading, taking pride in being a great employer, offering staff opportunities, experience and advancement.
The company decided to restructure its HR team, creating one way of doing things – and with teams split across a number of locations and 17 different HR systems to integrate, there was a lot to do. It also enabled L&Q to ensure a consistent focus and delivery across the business.
To manage the merger, the HR team was strategically split in two and positioned in Stratford and Sidcup maximising agile and flexible working in order to deliver the service. A number of project teams were set up to engage with a range of colleagues to ensure that integration took place as smoothly as possible for both staff and customers. The directors of operational divisions below executive level entered a consultation process which would shape the new leadership structure going forward, before commencing the redesign of the other tiers. Senior management has recognised that the HR team's approach has provided the foundations for the merger to move forward.
---
North Yorkshire County Council
This local authority re-positioned its services for schools after the Academies Act came into force, providing core service level agreement support, with additional commissioned services. It is providing educational services beyond North Yorkshire, exploiting fewer constraints on its ability to trade.
The council is providing a bespoke HR service with experienced professionals taking the lead on tailored/complex issues. It offers intensive intervention packages where concentrated support is necessary, using intelligent data-sharing and training interventions to overcome urgent HR matters. Another unique selling point is providing HR policy templates already consulted on with unions. Additional revenue from new contracts has been generated with an ever growing pool of clients in heath and wellbeing, HR, payroll with plenty of career opportunities resulting.
The council now works with over 440 clients across eight geographic patches including Teesside, York, West Yorkshire, and East Riding. Among a key success is the partnership formed with City of York Council to deliver HR to over 40 new schools, generating a further £150k this financial year.
---
SSCL
In November 2016, the government committed to improving prisons throughout the country, through a net increase of 2,500 frontline prison officers by December 2018. The Ministry of Justice (MoJ) created a multi-disciplinary team to recruit thousands of new prison officers to meet the targets set in the 2016 White Paper. The Prison Officer Recruitment and Retention Programme was formed with the aims of improving candidate experience, reducing time to hire, introducing innovative new recruitment initiatives, increasing the use of digitalisation and automation in the recruitment process, reducing cost per hire and improving diversity of candidates.
The aim in 2017 was to develop more of a localised feel to the recruitment for the applicants while keeping the efficiency of a volume process for the Prison Service and SSCL. This was achieved through targeted pages incorporated within the recruitment system that provided the applicant with engaging content, videos, imagery, and information produced by SSCL in collaboration with HMPPS about the specific Prison Establishment that they applied for. SSCL developed 360-degree video which allowed the applicant to view key areas of the prison in an immersive way, experiencing the sights and sounds that they would experience in the role. Virtual tours has enabled all candidates to get a better feel for prison establishments and also allow potential candidates to de-select themselves from the process at an earlier stage.
SSCL has achieved a reduction in time to hire and a reduced dropout rate. Better engagement with candidates has seen them provided with the right information at the right time. The initiatives have helped the Prison Service to pass its target to recruit an additional 2,500 officers by the end of 2018, seven months ahead of schedule.