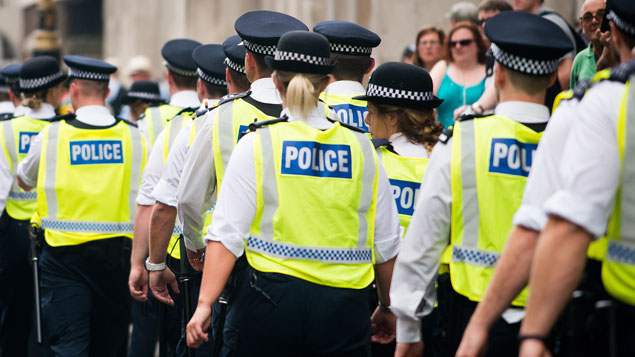 Police forces should be allowed to positively discriminate in favour of those from minority ethnic backgrounds in order to become more representative of the communities they serve, the chair of the National Police Chiefs Council has said.
Sara Thornton said "unconscious bias" still exists in policing and often affects promotion decisions, while officers from black, Asian, minority ethnic (BAME) backgrounds are more likely to face disciplinary action than their white colleagues.
Home Office figures show that as at 31 March 2018, 93.4% of police officers in England and Wales were white and 6.6% were from other ethnic groups. According to the 2011 Census, roughly 14% of the population was BAME.
Speaking to the Guardian 20 years since the publication of the Macpherson report into the death of Stephen Lawrence, Thornton said positive discrimination was needed to help police forces become more representative of the population.
She noted that unless changes to recruitment practices are made soon, a shift in the demographic of the police service might take a while as the current turnover among police officers is only around 6% a year.
"That is unlawful at the moment," she said of positive discrimination. "If you want to do something to give a shock to the system and say we can't wait to 2052, I think we need to do something different.
"I think there's an argument that we could select on merit and put people into a pool [of recruits] and then appoint on representation."
Macpherson report
In 1999 the Macpherson report found that prejudice and "institutional racism" in the police had helped 18-year-old Stephen Lawrence's killers escape justice. Lawrence was murdered at a bus stop by a white racist gang in 1993.
The Home Affairs Committee is conducting an inquiry into whether progress has been made 20 years since the publication of the report, which recommended, among other things, that police services reflected the cultural and ethnic mix of the communities they serve.
D&I opportunities currently on PT Jobs
Home Office data shows that between 2007 and 2018 the percentage of police officers from the Asian, Black, Mixed and Other ethnic groups combined increased from 3.9% to 6.6%.
However in London, where roughly 40% of the population identified as non-white (as at the last Census), only 14.2% of the Metropolitan Police Service and 6.3% of the City of London Police Service were of non-white origin.
Little progress made
Evidence presented to the Home Affairs Committee earlier this month suggested that little progress had been made in terms of ethnic and gender diversity since the Macpherson report, especially in terms of career progression.
Inspector Mustafa Mohammed, president of the National Association of Muslim Police, told MPs that "BME employees are under-represented in progression and recruitment but over-represented in misconduct and grievance cases, dismissals and retention rates".
"To me, that is not just coincidental – it is not a roll of the dice. There is some sort of failure at some point that, in my humble opinion, has to be attributed to the leadership of the service," he said.
BME employees are under-represented in progression and recruitment but over-represented in misconduct and grievance cases, dismissals and retention rates," – Inspector Mustafa Mohammed
Detective Sergeant Janet Hills, chair of the Metropolitan Black Police Association, suggested the police service had "gone backwards" in terms of diversity because "we have boxed it in a way that has not allowed it to change with society".
"The gap that has developed in policing at the moment is the lack of policewomen from an African, Asian or Caribbean background," she said.
"Even though we have seen such a rise for gender – currently, we are at 29%, so we are at a tipping point for cultural change within the organisation – when you look at the success of women of African, Caribbean and Asian heritage within that, we are nowhere to be seen."
She claimed that BAME women have become "invisible" within police forces, many of which do not employ any black female police officers.
"If you turned that on its head and said that we had constabularies without any women in them, there would be a public outcry, but because we have become invisible to the organisation, we are being missed. We are not being progressed or targeted around representing our communities within the police service," she said.