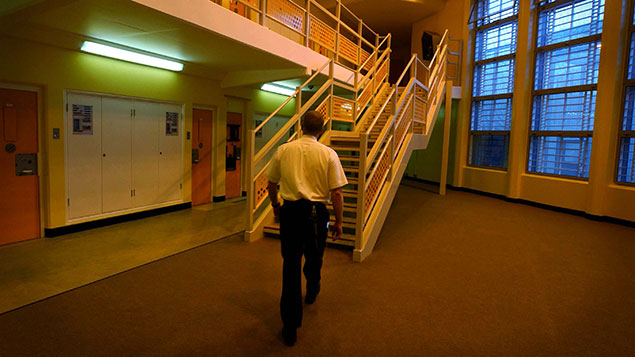 A prison officer who was subject to verbal and physical abuse over his sexual orientation was unfairly dismissed, an employment tribunal has heard.
Forty-year-old Ben Plaistow was the victim of direct discrimination contrary to provisions of the Equality Act 2010, employment judge Michael Ord told the Cambridge tribunal.
Plaistow took on a prison officer role at HMP Woodhill in Milton Keynes in September 2014, having sought a transfer from Bullingdon prison.
He was suspended from Woodhill in January 2016 and dismissed in August the same year.
A week after starting his new job, Plaistow was asked by a colleague whether he was gay, because of his haircut. A few days afterwards, at his induction meeting, his boss, custody manager Victoria Laithwaite, asked him about his sexuality. Plaistow said he found the question odd but answered honestly by stating he was bisexual. Laithwaite told the tribunal that this interaction had not taken place but Judge Ord found that her statements and those of other officers were not always reliable.
After this, the comments by colleagues "stepped up a notch", as his solicitor put it, and he was called "poof", "gay" and later, after he made a series of complaints, "vermin". His prison-issued bag was coloured pink with a permanent marker pen by colleagues and also smeared with a pink fairy cake, but when he complained and asked for a replacement Laithwaite refused to co-operate.
He was also slapped on the hand, threatened with being "put on his arse" by another officer and had water squirted at him, incidents, he told the court, made him "feel like crying" and as if "all my dignity had been taken away".
There was one occasion where Laithwaite grabbed Plaistow by the arm, causing bruising, and told him he was complaining too much about how he was being treated at Woodhill.
These experiences soon led Plaistow to seek a return to his previous posting at HMP Bullingdon, which would have accepted the transfer – a fact that was not communicated to Plaistow by senior managers. Initially, one governor approved the transfer but later, Plaistow was told in a meeting that Woodhill was short-staffed but that his application would be reconsidered at a later date.
Early in December 2015 he intervened to prevent an altercation between two prisoners. He was accused of using excessive force after police looked into the matter, despite the fact that other prison officers had been present but failed to assist Plaistow in dealing with the fight. This was used as a pretext to suspend him (for gross misconduct) and then, later in the year, dismiss him.
The judge drew attention to a series of errors made in the investigation of Plaistow's role in the altercation and concluded that the dismissal was victimisation because of Plaistow's letters of complaint to MPs about his plight including local MP Andrea Leadsom in October 2015.
Judge Ord was very critical of delays in the case, incorrect procedures being used, and the unreliable testimony of Plaistow's colleagues, managers and prison governors. He wrote of Laithwaite's role: "We again prefer the claimant's evidence to that of CM Laithwaite. To make it clear, we conclude that she was aware at all times that the claimant was being bullied and harassed by other staff who sought to disguise this conduct as 'banter', was aware at all times that the claimant was bisexual." She had "on the balance of probabilities communicated this to other officers and permitted by acquiescence and engaged in acts of discrimination and harassment as alleged".
Ord concluded: "The claimant suffered a campaign of direct discrimination and harassment on the basis of his sexuality or perceived sexuality throughout his period of employment at Woodhill. He was subjected to detriment for having made protected disclosures and victimised having made protected acts. He was unfairly dismissed and his dismissal was an act of victimisation."